Review: Coolpad Catalyst for T-Mobile
Hardware Software Wrap-Up Comments 2
Lock Screen
The Catalyst has a bare-bones lock screen experience.
Press the screen lock button to wake the display. You'll be greeted by the time/date with notifications listed beneath. You can select how revealing the notifications are. For example, I set the Catalyst to show me that I have new text messages, but not to display who the message is from nor its contents.
There are no fancy tapping or other gestures to wake the screen. Only the lock button turns it on/off. You can choose a PIN, pattern, or password to lock the phone, or leave it exposed. There are no advanced locking mechanisms, such as a fingerprint reader.
As always, you can jump to the phone or camera via lock screen shortcuts at the bottom. I appreciate that you can access and use the Quick Settings panel from the lock screen.
Home Screens
I'm always happy to see stock Android when booting up a phone for the first time, but Coolpad gave the Catalyst Android 5.1 Lollipop. This is pretty much unforgivable. Android 6 has been available to OEMs since October of last year, and Google is just about ready to release Android 7. There's no good reason for the Catalyst to ship with such an old version of Android. (For starters, older versions of Android aren't as secure as newer versions. They also don't have the latest features, such as battery optimization and more personalized search.)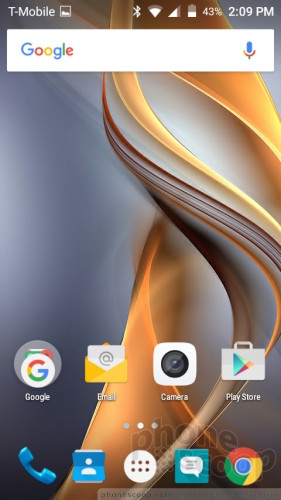 Anyone familiar with Android knows the Catalyst can be customized at will with app shortcuts, widgets, and so on. The app drawer is arranged alphabetically. You can't customize the app drawer, but you can slap folders onto the home screens if you wish. The Quick Settings panel and system settings all behave as expected for a Lollipop phone. Coolpad didn't dress any of it up, and I'm happy to report it all functions just fine.
The Catalyst performs smoothly enough that I didn't notice any real hiccups. The phone has a 1.1 GHz quad-core Snapdragon 210 processor with 1 GB of RAM. Most apps open quickly, though the camera was a little slow. Screen transitions were mostly seamless. Like other entry-level phones, the Catalyst is very slow when it comes to downloading and/or updating apps from the Google Play Store.
Camera
The Catalyst has a decidedly simple camera application. There's no physical camera button, but there's a shortcut on the lock screen if you're in a hurry.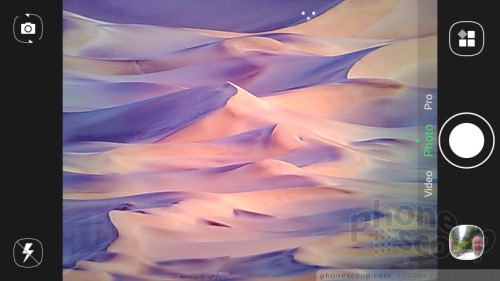 The UI is balanced with a button in each of the four corners: selfie cam, flash, modes, gallery. The frame for shooting is a 4:3 window in the middle with black strips on either side. The right side includes a shutter button. The Catalyst has three main shooting modes: auto, pro, and video.
In auto mode, simply press the shutter button to capture images. You can press-to-focus if you wish, but you still need to hit the shutter button. There are four alternate shooting modes available when in the auto: HDR, beauty, smile, and nightshot. These work as they do on other phones. The beauty mode, for example, has a sliding beautification bar that will eliminate moles and other flaws if you want. The results can be a bit grotesque if you go too far.
Pro mode offers an entirely different set of tools. It drops the HDR, et al., options in favor of sliding controls for adjusting white balance, brightness, focus, and ISO. You can't control exposure length, which is a shame.
The video mode is dead simple and doesn't offer anything fancy like hyperlapse or slo-mo.
The camera does have a standard collection of settings to adjust, but they are more or less invisible. If you look carefully, you'll see small white dots at the top of the screen when using the camera. Honestly, the first few days I used the phone I thought it was a screen error or some other camera-app problem. It turns out, if you press the dots, a settings menu appears. It's not intuitive at all.
I found the app worked well enough most of the time. It was sometimes slow when adjusting from mode to mode, but the Catalyst was quick when it came time to focus and take pictures.
Photos
As decent as the camera app is, the Catalyst can't capture a good image to save its life. It had real trouble with exposure and focus. Look at the flowers sample photo: they're totally overblown. You can see how incredibly soft and downright out-of-focus some of the examples are below, like the tree. These images just aren't good enough. The shot with the Lego cars is grainy and soft. Only one image in the group below, the balloon, looks decent enough to share with others. In the selfie shot, you can see how the sky and my t-shirt are way overexposed.
The Catalyst does not take good pictures.
It doesn't take good video, either. It captures a max resolution of 720p and the results are grainy at best. Focus and exposure are more consistent than in pictures, but the grain just kills it for me.
CoolPad / T-Mobile Stuff
There's nothing to talk about here, really. Bloatware is at a minimum. T-Mobile's account and hotspot apps are aboard but that's about it. Even so, the phone has just 8 GB of storage and only 5 GB of that is available to users.