Lenovo Picked USB-C Over Stereo Headphone Jack for Tech and Design Reasons
Article Comments 3
Jun 9, 2016, 3:36 PM by Eric M. Zeman @zeman_e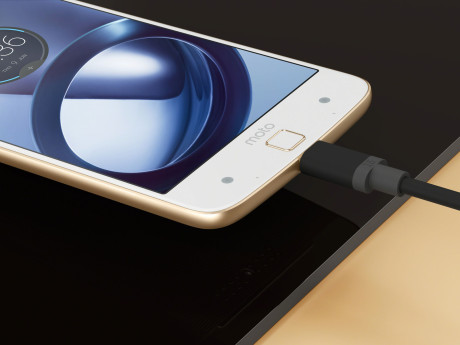 Neither the Moto Z Droid nor the Moto Z Droid Force has a standard 3.5mm headphone jack. Instead, the two phones adopted the USB-C standard for charging and audio output. When asked why it made this decision, Lenovo executives said its new phones are a "platform for the future" and that USB Type-C is defining that future. The decision means the phones will be compatible with future Moto Mods, for example, and other accessories the company creates down the road. Lenovo also noted it could not have made the phones as thin or simple as they are with the headphone jack. This was purely a "future-focused decision," said Lenovo, but "to ease the pain, we've included a USB-C to 3.5mm dongle in the box."
from Lenovo
what if....
so what if I want to charge the phone and want to listen to the music the same thing?!?! Apple is doing the same thing in their iphone 7 later on... I guess charging and listen isn't in the future??
NOT a good trend!
Ugh, I refuse to ever buy a phone without a headphone port, and really, a good DAC for that matter. Now that I enjoy my Sony Z3 Compact I really am spoiled by the size and performance, and the audio is great. I have expensive headphones, and do not want to rely on cheap adapters that put strain on the usb port and prevent charging at the same time.