Google Bakes Search Into Keyboard App for iPhones
Article Comments 3
May 12, 2016, 8:12 AM by Eric M. Zeman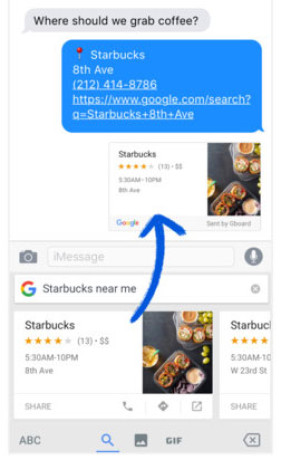 Google today revealed GBoard, a keyboard application for iPhones that includes search capabilities. Google is pitching GBoard as a way to simplify how people use the iPhone by allowing users to perform searches without leaving the current app, such as text messaging. A dedicated button calls up the search tool, which presents results in card form with important details, including addresses, business hours, and phone numbers, on the screen. iPhone owners can then send search results, such as restaurant info, flight times, and news articles, in messages or emails with a single tap. Beyond the search tool, GBoard also brings searchable GIFs to the iPhone keyboard, and makes it easier to find emoji. Last, the app includes swipe-style typing, so iPhone owners can trace their finger across the keyboard rather than peck at individual letters. GBoard is free to download from the iTunes App Store.
How To Profit Off The Other Guys:
GBoard.
You can't use Voice to Text
Where did the Mic go to use voice to text on this app ? Damn google you miss the mark. I use the Siri or incorporate google voice in the keyboard.
Anything that helps with efficiency
Swipe typing alone is worth the app but to be able to throw links directly into conversations instead of hopping in and out will be a bonus.