Review: Kyocera Hydro Reach for Boost Mobile
Hardware Software Wrap-Up Comments 2
Lock Screen
The Reach's lock screen experience mirrors that of most other Android handsets. Press the lock button to wake the display. The clock is easily visible in the middle of the screen, though I wish the font were a bit thicker. Notifications bundle up beneath the clock, and shortcuts to the phone and camera are positioned in the lower corners. You can hide individual notifications if you want. The notification shade and Quick Settings panel are available from the lock screen.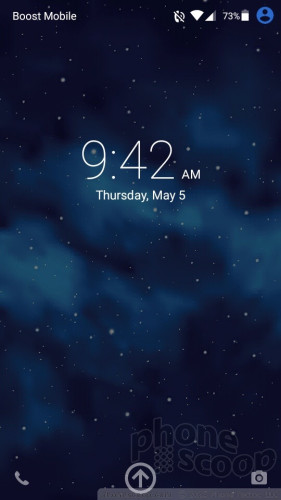 There are no high-tech security tools available on the Reach. You can select from a numerical PIN, alphanumeric password, or pattern to lock the phone. I like that you can customize what happens if people try to unlock the phone without a password (data wipe, lockout, and so on.)
Advertisements article continues below...
Kyocera did not do anything to dress up or alter the lock screen. Some phone makers, like Samsung, Motorola, and LG, have active displays that show notifications and other alerts as they come in, without waking up the phone. The Hydro Reach doesn't have anything like that. It's simple, which surely works for many people.
Home Screens
The Reach runs Android 5.1 Lollipop. Google gave Android 6.0 Marshmallow to phone makers in September of last year. It's about time to call BS on phone makers who don't ship Marshmallow on their newest phones. "I am disappoint," is my official stance on the Android 5.1 OS on this phone and all new phones moving forward.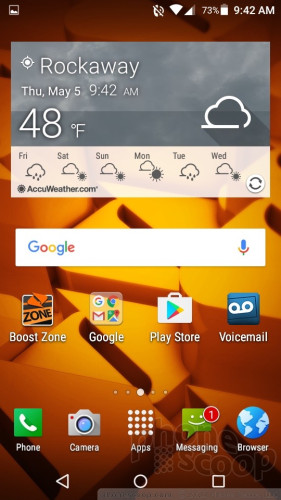 (While we're on the subject, at the time of this writing, the Reach's software only includes Google security patches through 3/8/16. That means it's two months behind the current level of protection from recently-discovered security issues. Kyocera can and should do better.)
There are five home screen panels active out of the box and three are pre-loaded with app shortcuts and widgets. The behavior of these panels is more or less what you expect from Android handsets, which means you can customize them however you like. Like some older Kyocera handsets, you can choose to turn the home screen panels off entirely and use only the app menu. Personally, I like the home screen panels.
The app menu is arranged in side-by-side panels that can be arranged alphabetically or customized to suit your tastes. Using the menu button in the upper-left corner, you can sort apps by recently added, or most frequently used. If nothing else, it provides some degree of flexibility in how you view the app drawer.
The Quick Settings tray and settings tools have been reskinned with fonts, colors, and arrangements unique to Kyocera. I can't say I like the way Kyocera treated these changes, but I'm sure some people won't mind at all. In the long run, they don't differ all that much from other Android phones.
Performance is not the best I've seen. The Reach is powered by a 1.1 GHz quad-core Snapdragon 210 processor with 1 GB of RAM. The Reach definitely felt slow on occasion, especially when attempting to move about the homescreen and open/switch apps. Transitions felt sluggish. Basically, nothing felt speedy or spry. I was often frustrated with the Reach's turtle-like speeds. I've seen other phones use the Snapdragon 210 without performance issues, so we can't lay all the blame here on Qualcomm's silicon.
Camera
The Reach's camera app is a carry-over from older Kyocera handsets. That's not necessarily a bad thing. As noted, the Reach does not have a dedicated camera button, so the quickest way to open it is by using the lock screen shortcut.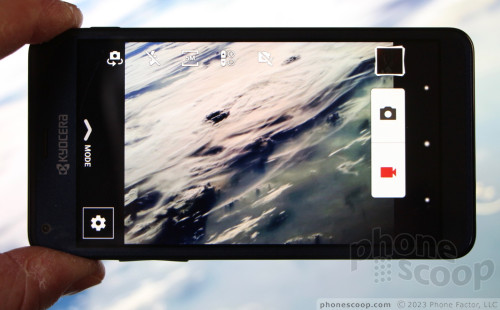 If you've used any smartphone to shoot pictures in the last few years, the Reach's camera won't take long to decipher.
The shooting modes include normal, burst, effect, scene, manual, and time-lapse. (No panorama?!?) Each mode is self-explanatory and behaves as you'd expect. Effects are essentially Instagram-style filters for artistic purposes, and "scenes" account for different shooting locations/lighting, such as landscapes, food, text, portraits, night, etc.
Manual mode is kind of a joke. When in manual mode you can alter ISO, focus, brightness and white balance. If you want to adjust these behaviors, good luck finding them. They are buried three layers deep in the settings menu. Most other phones that offer a "manual" mode put all the controls on the main screen. Seriously Kyocera, what are you thinking here?
Using the settings tools, you can select which quick actions appear at the top of the screen. You can choose up to five. I like this.
Performance-wise, the camera is painful to use. The Snapdragon 210 really struggles with this app. Pretty much everything about it is slow and frustrating. It makes for a poor picture-taking experience.
Photos
The Reach has a 5-megapixel sensor and it performs below average, even for this class of device.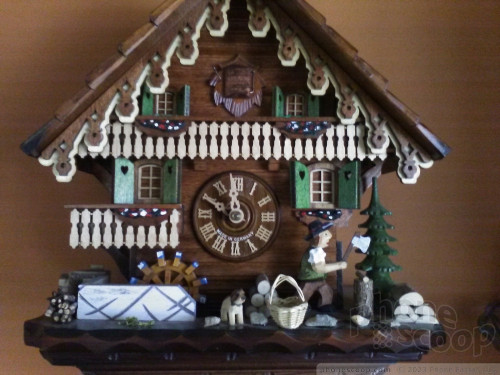 The camera really struggles to attain good images. Focus is often poor and exposure is inconsistent. White balance is typically okay. The biggest issue is focus, and that's a product of the camera's lack of speed. It's so slow I often moved the camera before the Reach had finished taking the shot. This doesn't lead to semi-soft shots, it leacompletely unusable smears of color. Even when I held the camera still, (for far longer than should be necessary,) images were a bit soft.
The Reach hardly suffices for everyday photography. In fact, I'd say bring a spare camera if you care about photography at all. Definitely do not rely on the Reach for important events you want to remember for years to come.
The same goes for the Reach's video camera. The Reach struggles to focus in low light; panning around results in herky-jerky, motion-sickness-inducing video; and the Reach cannot handle dramatic changes in light at all.
Honestly, the Reach has one of the poorest-performing cameras I've tested in some time.
Boost/Kyocera Stuff
O.M.G. Boost went overboard with bloatware on the Reach. The Boost-branded apps include Boost 411, Fun & Games, Music, Zone, and Dealz. Then there are third-party apps from 1Weather, airG, Amazon, Amazon Music, Amazon Video, CallWatch, Gadget Guardian, NextRadio, Uber, and others. Most of these cannot be deleted, which is annoying. Moreover, none can be "hidden", as many other phones permit.