Gmail for Android Gains Microsoft Exchange Support
Article Comments 1
Apr 25, 2016, 12:56 PM by Eric M. Zeman @zeman_e
updated Apr 25, 2016, 1:40 PM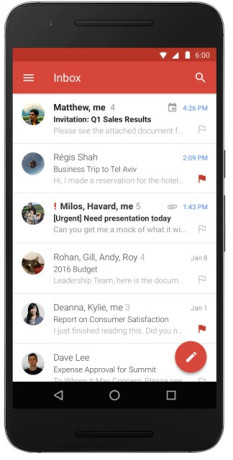 Google today said the global Android Gmail app is set to add support for Microsoft Exchange. "Whether you're on Google Apps or Exchange, you can use the Gmail app on any Android device to send and receive mail," said Google in a blog post. Gmail will also be able to support Exchange-based calendars. Gmail has long supported the IMAP and POP email protocols, including Microsoft's Outlook and Hotmail services. Google added Exchange to Gmail back in November 2014, but only Nexus handsets running Lollipop had access to the feature. Providing Exchange support to all Android users is a big win for businesses that rely on Microsoft's email management product. Google says the updated app will be made available from the Google Play Store over the next few days.
more info at Google »
more info at Google Play Store »
Permission to wipe?
When I tried to add my work exchange to my personal Nexus 7 last year, one of the permissions was that work could wipe my Nexus 7 via exchange. No thanks. But MS Outlook for Android doesn't do that, so that's what I use.