SoundHound Releases Hound Voice Assistant to Compete with Siri, Cortana, Google Now
Article Comments 1
Mar 3, 2016, 8:26 AM by Eric M. Zeman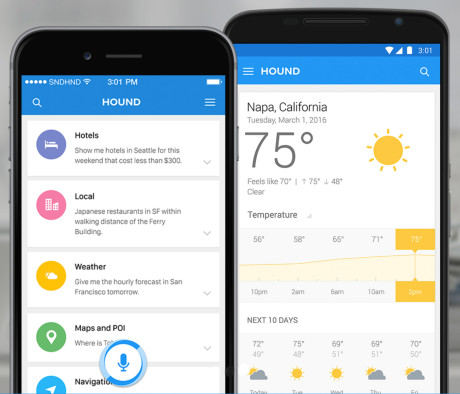 SoundHound has made a voice assistant of its own available to Android and iOS devices in the hopes of providing an alternate to Google-, Apple-, and Microsoft-made assistants. Hound works similarly to Google Now, Siri, and Cortana in that it listens to natural language voice requests and performs select actions in response. It can be used hands-free by stating the "Ok, Hound" catchphrase. Users can ask about the weather, search for local restaurants and their Yelp ratings, plan routes between points, seek out hotel rooms, hail Uber rides, make phone calls and send messages, perform general web searches, and even ask for mathematical calculations. SoundHound claims Hound is able to handle specific requests, such as "Show hotels in Seattle that are pet-friendly, have a gym, and cost less than $275", as well as follow-up questions. Hound is free to download from the Google Play Store and iTunes App Store.
Hasn't this been out for like a year?
I got the beta when it released but I thought it had been public for a while? Anyways, it sucks. I frequently get crash notifications from it, even though I haven't actually opened the app in a few months.