Review: Sony Xperia Z5 Compact
Hardware Software Wrap-Up Comments 2
Lock Screen
Sony's lock screen treatment is mostly typical for an Android phone, though there are a few anomalies.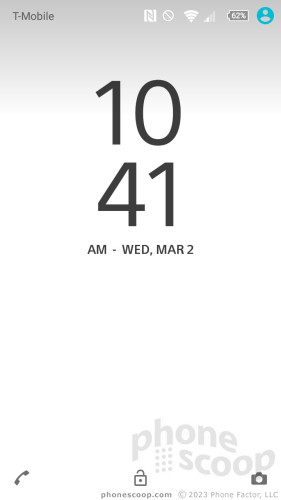 To start, the Compact can be woken with a double-tap of the screen if you wish. This feature needs to be turned on manually but works well once enabled. The lock screen includes a clock, notifications, and shortcuts to the phone and camera apps. This is normal. What's not normal are how notifications are handled.
AD article continues below...
Most Lollipop phones allow you to show all notifications in the lock screen (including sender names and message content), hide sensitive content (don't show the names or message details, but still mention there's message), or show nothing at all. I always select the middle option, as it lets me know I have messages or emails, but doesn't reveal who they are from. On the Compact, only the first and third options are available, meaning you either see all your notification content — including names — or none of it. That's rather annoying.
Security options include none, pattern, password, or PIN. (Again, no fingerprints.) As always, you can choose how quickly the phone locks itself once you put it down.
Home Screens
Sony dialed its Android skin way back on the Z5 Compact. The Android 5.1 (Lollipop) operating system (Sony says Android 6.0 Marshmallow is on its way!) behaves mostly as expected for a Lollipop phone.
The Compact ships with five active home screen panels, three of which are jammed with apps and widgets. Press-and-hold one of the home screen panels to bring up the home screen control panel, which lets you easily adjust widgets, apps, wallpapers, themes, and general settings. The Quick Settings panel is the stock version from Google, but Sony allows users to customize which toggles appear in the panel. That's appreciated.
The app drawer is arranged in pages that you swipe left and right. Users can elect to view apps in custom order, most used, alphabetically, or by date. Sony also allows users to uninstall a fair number of the pre-installed apps. The app drawer supports folders if you wish.
The settings tools have been skinned with Sony's fonts and icons, but otherwise behave as the stock Android tools do. The one major difference to my eyes are the inclusion of themes. These bundle together similar color palettes for the home screen, app drawer, and other aspects of the user interface.
As far as performance goes, the Z5 Compact is fantastic. It relies on the Qualcomm Snapdragon 810 processor with eight cores at 2 GHz. The Snapdragon 810 got off to a rough start in mid-2015, but Qualcomm appears to have sorted out the issues. Notably, the Z5 Compact never got too hot. The Compact has 2 GB of RAM, which is a bit less than the Z5's 3 GB of RAM, but you wouldn't know it. The phone performed flawlessly while I reviewed it. It never stuttered nor stammered, screen transitions flowed from one to the next, and apps opened in a blink.
Camera
A quick press of the dedicated camera button opens the camera app very quickly. You can also open it from the lock screen, but the physical button method is fastest. The camera app is powerful and doesn't take too long to master. It offers enough flexibility for novice and expert users alike.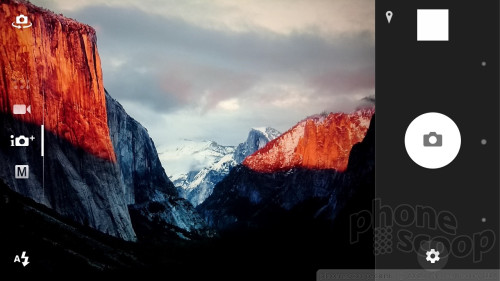 The default shooting mode is Sony's Superior Auto. The Compact also includes Manual, Video, and Fun modes. The shutter button, settings button, and recent photos button are all positioned on the right side of the screen, while the left is reserved for toggles to the different modes in addition to controls for the flash and user facing camera. Switching modes works exactly as on the iPhone — you need to swipe the screen to jump from mode to mode.
Superior Auto is pretty darned smart; it usually succeeds in figuring out what it's looking at and adjusting automatically to get the best shot. For example, I aimed the Z5 Compact at my desk calendar and it switched to Document. It also switched to Sport when it noticed I was moving the camera around a lot, and to Macro when I held it close to some flowers. Superior Auto does allow you to adjust basic camera options, such as geotagging, review, the timer, resolution, and so on.
Manual Mode gives you far more control over the camera and its behaviors. For example, Manual Mode allows you to set white balance, ISO, brightness, and color, and it also offers a number of scenes (landscape, HDR, night, foot, pet, beach, snow, etc.) Using Manual Mode is not intimidating at all, I promise. It's simple to dial in different scenes, and you can still let the camera take care of exposure, focus, and so on if you want.
There are 11 other shooting modes lumped into the Fun category, and you can download more if you wish.
Those extra modes include: Panorama, 4K Video; Timeshift Video (high frame rate for slow-motion results); Sound Photo (takes photos with background sounds); Multi Camera (use both cameras at the same time); Face In (use both cameras to put your face in either photos or videos); AR Effect (take photos with virtual scenes and characters); Creative Effect (select effects - i.e., filters - for artistic photos and videos); Timeshift Burst (takes a quick burst before you press the shutter button to increase likelihood of getting good shot); and Style Portrait (for tweaking those selfies).
Each of these individual modes works fairly well, but takes some practice before you'll get good shots. I like that Sony included a quick, simple tutorial to help you learn each of the modes.
The Z5 Compact can also detect smiles, and has four different settings for the flash, including fill-flash. Fill-flash helps take photos when you have a light background and a dark foreground and you want to make the foreground pop a little bit (it uses a lower-power burst than the normal flash mode.)
Everything about the camera is fast. It focuses quickly, and shoots/saves images quickly.
Photos/Video
The Z5 Compact has a 23-megapixel camera. Users can drop the megapixel count to as low as 8, and also toggle between 4:3 and 16:9 aspect ratios to suit tastes. The Compact's camera handles exposure, focus, and color in excellent fashion. I was quite pleased with the overall quality of the shots I captured with the phone. My biggest complaint is noise and/or grain, which is easily visible when photos are blown up and scanned for details. The other issue is low-light performance. Without the flash, the Z5 Compact has trouble with exposure in dark environments. In other words, using the flash is almost essential when taking shots of your friends at the nightclub or when out to dinner.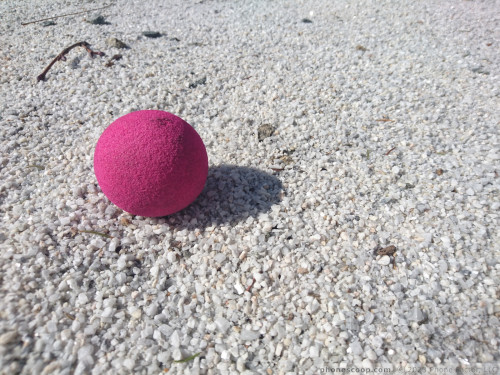 Selfie lovers will be mostly pleased with the 5-megapixel user-facing camera. Aside from some grainy shots, it captures images that are mostly sharp and properly exposed.
The phone shoots video up to 4K resolution, but you may as well stick with 1080p HD. The video I shot with the Compact was generally impressive in terms of focus, exposure, and color. Like the camera, the video camera added some grain to results, but it's less noticeable.
Bottom line: the Compact serves as a solid everyday imaging and video device, You can probably get away with using it as your main camera most of the time. You may want to switch to something more powerful if you have a lot of indoor shooting to do.
Sony Stuff
Sony kept bloatware to a minimum, and what little there is can be deleted. The most important apps are the PlayStation tools, which let users hook into their PlayStation accounts for gaming, watching videos, streaming music, and networking with friends. Some of the other extras include TrackID, Sketch, Movie Creator, and Lifelog for managing and interacting with media content.