Another Nokia / Pantech CDMA Phone Surfaces
Article Comments 9
May 19, 2006, 12:43 PM by (staff)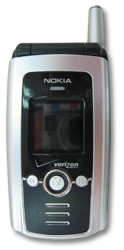 The FCC today approved the Nokia 6315i, a handset manufactured by Pantech and sold by them as the PN-E330. The 6315i is a clamshell-style EV-DO phone which shows clear Verizon branding on the phone as well as in the manual. Features include a 1.3 megapixel camera, Bluetooth, microSD memory card slot and dual color displays. There are media playback keys on the front of the phone as well. The phone supports all of Verizon's EV-DO services including music and video on demand and music downloads.
Release Date??????????????
When and How much???? 🤤
Sorry, I missed this thread, but this is the big question...
I waited a year for the Samsung i-640/45 smt/phone flip...The day came to release it, and it was dropped....... 😡
So,,,, I love the dream, but have no interest in getting excited over Ve...
(continues)
Nokia / Pantech a wining combination
I LIKE IT!!!!!!!
🤨
Nice set a features, and a nice look
yeah it looks clean, i like the buttons on the outside, wish cingular would get some phones similar 🤣
Not so much of a combination though. It's entirely a Pantech phone. Nokia just slaps their label on it. They have absolutely nothing to do with the making of this phone.

And for the person looking for it on Cingular, never going to happen. Noki...
(continues)
ArmySF said:
I LIKE IT!!!!!!!
🤨
Nice set a features, and a nice look
A nice set of features and good looks don't necessarily make Nokia/Pantech a winning team. If Pantech can't manufacture phones up to Nokia's...
(continues)