LG VX-8400 Revealed
Article Comments 51
May 18, 2006, 2:17 PM by (staff)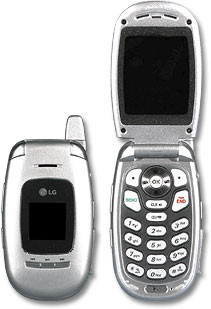 Photos and details of the unannounced LG VX-8400 appeared today on the FCC web site. Despite the higher model number, the clamshell CDMA phone appears to be a slightly trimmed-down version of the recently-announced VX-8300. While the 8400 keeps EVDO high-speed data, dual color displays, and Bluetooth, it does not have a memory card slot like the 8100 and 8300. The 8400 also sports media keys on the front, and a 1.3 megapixel camera with LED flash on the back. Speakerphone and video capture are also among the 8400's features. Both the model number and a "Get It Now" icon on the keypad suggest Verizon Wireless is the intended carrier.
LG VX-8500
I'm going to call the LG-VX 8500 the US version of the LG Chocolate phone. That's my guess until we find out more.
Any info on the 8500? The 8400 is a trimmed down version of the 8300.
This is why there is no mem card slot!!!!!
Geez, does anyone even bother to read the manual, by clicking on the "Full Story" button? This is probably why it does not have a memory catd slot.

from manual....

1) Main Chipset MSM6550, Memory (1Gbits NAND Flash + 256Mbits LP-SDRAM)

...this means there's 1 whole gigabyte of user accessable storage (the 256mb is probably for VZW's use, phone software, vzw's vcast stuff etc...). This is going to be outstanding a phone on VZW that offers 1gig of memory wow!! 🤤

wait there's even more great news about this phone...

13)3D Graphics GUI: Menu, Animations

This means that it will most likely be using Verizon's new and improved interface compared to the cruddy one they use now. Isn't this phone awesome!!
Wait this phone gets even better from manual...

The Mouse Key lets you scroll circularly throught menus quickly and easily...

by the looks of the phnoe, by the photos by the FCC, it seems that you can scroll through menus using just your finger....
(continues)
AH, sorry.
1 Giga-bit is NOT the same as a Giga-Byte!
Memory Slot.
When looking at the new photos on the FCC site, it does look like there is a memory slot, but can't tell what type.
There is a rubber cover on right side in the external photos, but if you look closer, it clearly says "IO CONNECTOR" on it.

...and looking at the internal photos, it's quite clear that is just a connector, and there is no memory card slot anywhere....
(continues)
the trend continues
how many steps backwards can verizon take?
i have no idea, somehow verizon does it everytime. that is why i left to go to cingular. it is was better than verizon in all aspects.
It not having any memory card slot is what REALLY, REALLY, REALLY ruins it! ! ! !
Did I miss the memo? When did Verizon buy LG? You can't blame Verizon for this phone, Blame LG.
Yknow, I just have to stop and comment. The article states that this is a "trimmed down" variation of another model. How is this a step backwards? Honestly how many cell phone users own a memory card anyway? If you are someone who does, buy a diff...
(continues)
So were going to act like Army is a bright individual, I have been reading these forums for sometime now. I find there are lots of good information regarding phones and actually my company suggests this site for people to view to get needed info regar...
(continues)
Trade VX-9800 for VX-8400??? What does everyone think?
I absolutely love electronics especially new electronics. Do you think this phone would be worth giving up my beloved VX-9800? Tell me what you think.
Okay you guys here's the actual info of the vx8400 and vx8500(sort of).
According to engadgetmobile...

Nothing too exciting, but it looks like the US might be getting a couple more handsets from LG: the VX8400 and VX8500. The VX8500 (pictured right) is a bit camera shy, and we're otherwise short on deets, but we can tell it least has a camera, and it could be a slider -- or something. As for the VX8400 clamshell (pictured left), the FCC was kind enough to share the manual, so we know it's a musicphone with 128MB of storage, Bluetooth, a 2.2-inch 176 x 220 pixel screen, external color display and a 1.3 megapixel camera. The EV-DO phone also promises to have a 3D graphics GUI, so that should be exciting. Phone Scoop is predicting Verizon on this one, but no word on price or availability of either handset.

.....
(continues)
I'm thinking ALLTEL...
I read somewhere we're suppost to be getting a "unidenified Bluetooth LG phone"...maybe this is it...
Yes you are precisely correct. That is why it has a "Get It Now" button on the keypad. Just like what Alltel has.
So what does this mean?

Any pics
Rich......What is.....
An I/O port used for? I also noticed in the manual a reference to a mouse wheel or scroll wheel, however pics don't reflect that. Did you find any reference to this handset possible supporting MediaFlo?

Thanks.
Should be the VX8200?
If the 8400 has less features than the 8300, shoudn't it be called the 8200?
Dimensions on the VX8400
Anywhere in the FCC docs or elsewhere does it mention the size and weight of this phone? I looked but could not find anything...

Thanks
i wouldnt worry about it too much....
i work for verizon head office in irvine.... this phone will not even come out from what i have been hearing... just the 8300