Palm OS Comes to Treo 700 Series
Article Comments 68
May 14, 2006, 11:00 PM by (staff)
updated Jul 28, 2019, 3:40 PM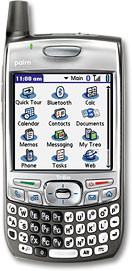 Palm today announced the much-rumored Treo 700p, a new CDMA Treo with Palm OS. The 700p is based on the same hardware as the 700w, including EV-DO high-speed data, a 1.3 megapixel camera, and Bluetooth. The key differences are Palm OS 5.4.9 instead of Windows Mobile, and a sharper 320 x 320 display like the Treo 650. The 700p also supports built-in streaming video, laptop tethering via Bluetooth or USB, support for Outlook, Yahoo!, AOL, and GMail email accounts, built-in support for Word, Excel, PowerPoint, and PDF files, and Mac compatibility. The 700p will be launched with both Sprint and Verizon Wireless in coming months.
Nice, but....
Though I don't use a Treo, the news about the Palm OS is nice, but, I would still be resistant to getting one.

My son had a 700w for about a week or two and then sold it. Why?

1) When the unit was in data mode, incoming phone calls went right to voice mail. This was totally unacceptable for us, calls should have priority.

2) Email handling, especially if you have more than 1 account, was clumsy, inefficient and cumbersome.

I hope that Treo/Palm/VZW address these concerns. As someone who carriers a Blackberry (tMobile) and a Razr (VZW) I would LOVE to just have ONE device!
There were a lot of people like him. WM5 is a VERY buggy OS. The Palm OS tends to be very stable, in comparison at least.
Please note that trying to compare Palm OS and WM5 is like trying to compare a Mac OS with Windows. I prefer Palm OS because it is more stable. I have a Treo 600 and if you are syncing calls go to voice mail, this will happen with all Treos. Other ...
(continues)
If you want true ability to browse web/handle voice at the same time, the ONLY network that will let you at the current time is Cingular's 3G UMTS network. Hope this helps
This is NOT the fault of the phone....this is a part of the CDMA standard (one of the reasons I use Cingular). CDMA does not have the ability to suspend the data session and allow the call to come through, GSM does. With Verizon and Sprint if you ar...
(continues)
Are you kidding me. The 700w, that's the Microsoft OS. That thing is a piece of JUNK.

The Palm Operating System has to be one of the MOST stable platforms out there. And if it does crash, on that rare occasion, all you have to do is hotsync it and...
(continues)
GSM gettin' no love...
...at least not yet. I guess Palm is still trying to get the 650 working correctly first!!
I was thinking the exact same thing 🤨
No body loves you, Nobody cares. YOU'RE NOTHING! 😈
Actually if you're using the latest ROM version, the Treo is VERY stable. I'm running a Cingular 650 with the latest ROM (MR2 - 1.17), haven't had any of the issues I had with the other versions. As a matter of fact, it's now my most reliable device...
(continues)
I don't think you'll see a GSM Treo 700p until Cingular rolls out their HSDPA network in more markets. The CDMA Treo 700p supports 3G data on CDMA networks (i.e. EVDO) so it would make sense for the GSM Treo 700p to support 3G data on GSM networks (i...
(continues)
ok
.....ok, when's the blackberry OS version being released. 🤤 😁
Treo 700p just a Treo 650 with EVDO
Same form factor - I hoped for a clam shell / flip to protect the pressure sensitive screen.

No WiFi - What, no data for free? What was I thinking?

With so few changes, the only reason I can think for a new model name is to create new service plan bundles that work with one model but not the other. Whose idea was it that I'm web surfing or reading email on my V710 or Razr I can do it for $10/monthw extra, but if I want to use a 650 or 700p the same way it costs $50/month extra?
First, you are on the wrong network is why you have to pay that much for data.

Also, there are significant differences.

1. EVDO
2. 1.3MP camera
3. Bundled software compatibility (excel, pdf...)
4. More memory
5. On Sprint... option to get l...
(continues)
Saving the better screen for Palm OS...
Check out the specs on the Palm site - this one has the 320x320 screen a la Treo 650. Apparently they were saving the high res screen for the Palm OS version. Classic.

Wonder how long it will take for the higher resolution to make it to the Windows Mobile phone... Treo 750w anyone?
Windows Mobile application guidelines specify a 320x240 QVGA screen. The next jump will be to VGA 640x480 screens (Sharp makes one for Vodaphone in Japan)
software question
Will software for the 650 work for the 700p (hopefully)?
When/where/how-long?
Rumors say that we could see this as early as this week in select Verizon markets. Anyone have more credible information?
I've heard from a credible source that Sprint's will launch May 28! 🤤
This is funny
😕
I waited for a long time to install my 650 software on my computer. I just did it last night, and look what I see. The new Palm coming. I will keep a close watch on this device. Why no WIFI???
Rx said:
Why no WIFI???
so you have to pay extra to connect to a data network.
This makes me happy...
I was depressed when they announced the 700w... This makes all that is wrong with the world right again!