Review: Samsung Galaxy J3 for Boost Mobile
Hardware Software Wrap-Up Comments 2
Lock Screen
Samsung offers a pretty decent lock screen on its handsets these days. The basics include a large clock positioned at the top of the screen, followed by notifications, and, at the bottom, shortcuts to the phone and camera apps. This is pretty standard for most Android devices.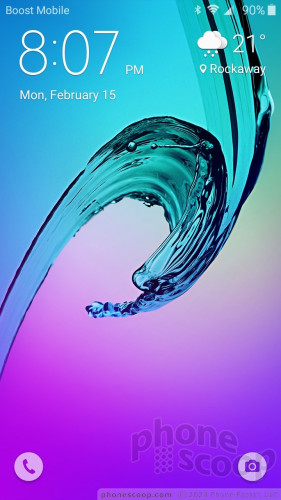 During initial setup, Samsung suggests you set a PIN for the phone to secure it, but it also supports patterns and passwords. You can choose to skip a security tool, but I don't suggest it in this day and age. The J3 doesn't have biometrics (fingerprint, iris detector) to secure the phone, so you have to stick with the old-hat stuff.
AD article continues below...
You can choose to view all your notifications on the lock screen (including sender and content), hide the content (just a raw "you have a text" notification), or keep the lock screen free of notifications altogether. I also like that you can really dial in exactly which apps are allowed to push notifications to the lock screen. You can elect to show the clock and/or weather if you want, or turn these off, but you can't add more app shortcuts to the lock screen.
Home Screen
The Galaxy J3 runs Android 5.1 Lollipop with Samsung's UI on top. It would have been nice to see the J3 ship with Android 6.0 Marshmallow. In general, the Android architecture is present and works on the J3 as you'd expect, but it is slathered with a heavy dose of Samsung-designed fonts, themes, wallpapers, and icons.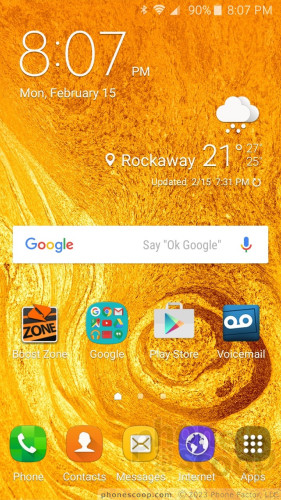 Out of the box, the J3 has three active home screens, two of which have a smattering of Samsung and Boost apps installed. A dock along the bottom holds four app shortcuts plus access to the app drawer. The Quick Settings panel makes use of Samsung colors and organization. You can still toggle on/off most radios and other base functions, and Samsung lets you edit where the toggles appear. As per the norm on a Samsung handset, the app drawer is arranged in side-by-side panels (like iOS), rather than vertical panels. You can arrange the apps alphabetically, stick them in folders, or arrange them however you wish. You can't uninstall any of the apps (lame), but you can disable them.
Annoyingly, the only three themes (which modify fonts, colors, and icons) preinstalled on the J3 are the same ones Samsung has been including on its phones for a full year. More are available for download, but what gives here, Samsung? Can't you change it up at all?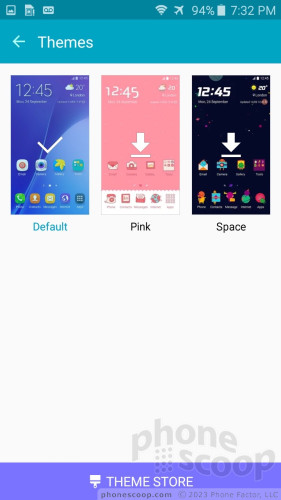 The settings tools feature six quick settings at the top, with the full list tucked below. You can edit which settings appear at the top, which is helpful. You can't mess with the way the rest of the settings panel is organized, but you can search through it. Sometimes searching is the best option.
A Qualcomm Snapdragon 410 processor clocked at 1.2 GHz with 1.5 GB of RAM motivates the Galaxy J3. This engine is more than adequate to keep the J3 up and humming smoothly. I have zero complaints about the smartphone's performance, which felt speedy at all tasks save for updating/installing apps.
Camera
The J3 doesn't have a dedicated camera button, but a quick double press of the home button will launch the camera, whether the phone is locked or being used. I like this feature. The camera launches quickly. The camera UI is more or less the same one we've seen from Samsung for the last year or more. It doesn't have all the fancy features that Samsung's flagship phones boast, but the basic UI is identical.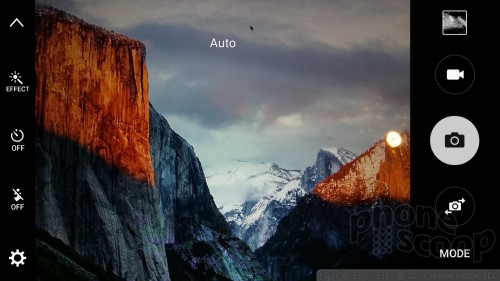 At its simplest, the J3's camera includes shutter controls and access to the shooting modes and recent photos on the left. There are two shutter buttons, one for pictures and one for video, and the shooting modes include auto, pro, panorama, burst, beauty face, sound & shot, and sports. An arrow on the left side of the camera UI will drop down a set of icons that let you access effects (sepia, etc.), the timer, flash, and full settings. The settings are rather limited. You can play with the resolution, location tags, grid lines, and so on.
When in auto mode, the camera lets you point and shoot. You tap the screen to set focus, but otherwise it's pretty basic. The pro mode adds controls for white balance, exposure, ISO, and metering. These tools aren't available in the auto setting. I suggest you stick with the pro mode if you want to have even this modest amount of control over the camera's behavior. The rest of the shooting modes perform more or less as you'd expect them to, and have been a staple feature of Samsung phones for some time.
The user-facing camera includes several imaging tools. For example, this is where you'll get the most use out of the Beauty Face tool, which adds a level of beautification to your selfies. It smoothes out skin imperfections, but I find you have to keep its strength settings at a minimum unless you want to look like like you're wearing 10 pounds of makeup.
The J3's camera does everything relatively fast. It's not the fastest camera in the world, but it's fast enough most of the time.
Photos
The J3's camera captures a maximum of 5 megapixels, which puts it at the low end of the scale as far as resolution is concerned. It does a surprisingly good job, however, and I was generally pleased with focus, white balance, and exposure. If it had trouble anywhere, it was with exposure and, in particular, balancing out contrast-y scenes with lots of light and dark spaces. Even then, it was decent. I was most surprised at the lack of grain in images, especially low-light shots. Samsung did a good job with this camera, despite the phone's humble ambitions.
The video camera is limited to 720p HD video and it does about as well as the regular camera. Video is sharp, well exposed, and accurate in terms of color. I saw some grain here and there in low-light video, but it was hardly upsetting.
The 2-megapixel selfie camera is next to worthless. I mean, if you're outdoors and want to be sure your face is in that shot with the Eiffel Tower, then, yeah, it gets the job done. If you're serious about your selfie game, however, you'll be disappointed with the soft focus and loads of distracting grain.
Praise for the rear camera aside, the J3 is really only adequate for everyday imaging and video needs. Use a real camera or real video camera if you have to capture important events.
Boost / Samsung Stuff
Samsung is notorious for cramming all sorts of garbage apps onto its devices. The J3 skips some of the most onerous Samsung junk, but is still rather full of apps I don't want or need. To start, it has a whole suite of Amazon apps (shopping, music, photos, video) and Galaxy apps (Milk Music, Galaxy App Store). Samsung added Microsoft's productivity tools (Word, Excel, OneDrive, OneNote, PowerPoint), but there are only a few Boost Mobile apps (Zone, Gadget Guardian). What I find annoying on this phone is that you can't delete those apps at all. You can only disable them, which leaves them on the phone and puts them into a sort of hibernation mode. With 16 GB of storage — only 10.9 GB of which you have access to — you'll do well to add a memory card.