Nokia Announces Sporty S60 Smartphone
Article Comments 24
May 10, 2006, 9:50 AM by (staff)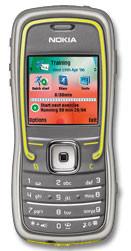 Nokia today announced a new S60 smartphone designed with the active user in mind. The 5500 Sport is an S60 3rd edition phone with the latest software and features and a durable sports-inspired construction of stainless steel and rubberized surfaces. It is a 900/1800/1900 GSM/GPRS handset with a 208 x 208 screen, 2 megapixel camera, MicroSD memory card slot, text to speech and a gyroscopic sensor for games and to use the phone as a pedometer. The 5500 also features a button to switch the smartphone from phone mode to music mode to sports mode for quick access to different features.
Any idea what carrier will have this phone?
Cingular or Tmob?
tmobile. (but i think cingular could too)
Neither, in its current version is lacks the 850 MHz band, which both Cingular and T-Mobile USA require.
Transition has officially started!
The official low end S60 handset. They were not kidding a 208*208 screen it looks like a S40 handset but better features. I wonder what type of apps would work for that screen orientation.