VAIO Trots Out A Windows 10 Handset
Article Comments 3
Feb 4, 2016, 8:24 AM by Eric M. Zeman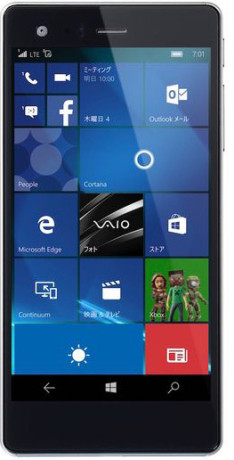 VAIO has unveiled a smartphone running Microsoft's Windows 10 platform for its home market of Japan. The VAIO Phone Biz is a stylish handset with aluminum unibody construction and mid-range specifications. It includes a 5.5-inch full HD screen, Qualcomm Snapdragon 617 processor, 16 GB of storage, 3 GB of RAM, and a 2800mAh battery. The Phone Biz offers a 13-megapixel main camera and 5-megapixel selfie camera. It can run Microsoft's Continuum software, which allows it to act like a full Windows 10 PC when hooked up to a monitor, mouse, and keyboard. VAIO will sell the phone in Japan for approximately $424 beginning in April. VAIO is Sony's former PC business, which it spun off several years ago. The VAIO Phone Biz won't be sold in the U.S., but is notable due to its design and the fact that it is the first VAIO-branded Windows smartphone. The VAIO Phone Biz isn't as capable on a spec basis as Microsoft's own Lumia 950 and 950 XL phones, but it is more stylish and less expensive.
Nice
Good to see an OEM putting out a high-end Windows 10 phone. Unfortunately, without major carrier support in the U.S., it will not sell very well. That's been one of the biggest issues with WP gaining popularity, and in relation, major app support from developers.
What do you think about the 950 and 950 XL with the first one only being available at AT&T? Do you think more carriers means more success for WP or is it simply never going to be as popular as iOS and Android due to lack of apps?