Samsung Continues To Get Skinnier
Article Comments 21
May 8, 2006, 4:33 PM by (staff)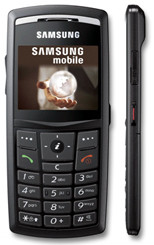 Samsung this week will unveil a 6.9 mm thick candybar phone. The X820 is thinner than Samsung's P300 credit card phone and yet features a number of upgrades over that model. It too is a tri-band GSM/GPRS phone and features a 2 Megapixel camera, Bluetooth, 80 MB memory and even TV Out. It is due out in Europe this week, but has not been announced for the US.
samsung admits stealing apple/ms property
Nobody should be excited for this phone, or for Samsung. Link below is article on how they fully admitted stealing this. And before someone blames an errant designer, let me just say that no company releases a phone, interface, or anything with Samsung's size without huge review processes.
A company full of cheats and immitators. May they fail miserably.
http://times.hankooki.com/lpage/biz/200605/kt2006050 ... »
i dunno, i would think the people who commented were "wow"ed by the form factor, not the fact that the icons on the phone used to be from apple... and they changed that now, so i don't see why you have to be so bitter...
hey buddy... samsung is not the only one who steals from other companies. So don't just blame on one company b/c they admitted that they stole it at least they are admitting they are not trying to hide it. They are a good solid company that comes out...
(continues)
"A company full of cheats and immitators. May they fail miserably."


What, do you work for LG? Calm down and don't assume cause they admitted to using the same icons as Apple that the devil sent them directly.
I want this phone
Are there or will there be any sites selling this phone unlocked??
Samsung X820
I haven't read the specs yet, but the tri-band could be 850/1800/1900. Also, I hope T-Mobile picks it up here because this is a slick looking phone hopefully with specs to match! 😁
I didn't see any mention of a memory card slot, ANY mobile with a 2mp cam, has to have a memory card slot because 2mp is way too much to be storing onboard. Not only that, but trying to send a 2mp image over the network with ONLY GPRS, that's no good,...
(continues)
Since it's a European GSM phone, isn't it likely to be 800/1800/1900? Still makes it OK fro T-M ... :-)
WOW!
I have no other words to describe.....

😁
copy cat. 😛

(so what if yours is in caps)
so i take it has no 850......at least no yet!!!!
😢