Samsung Crowns Its Galaxy A Series with a 6-Inch Phablet
Article Comments 6
Dec 24, 2015, 8:19 AM by Eric M. Zeman @phonescooper
updated Dec 24, 2015, 8:22 AM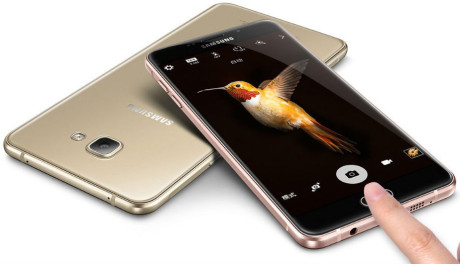 Samsung has revealed the Galaxy A9, the largest of its refreshed Galaxy A series handsets with a 6-inch full HD display. The Galaxy A phones sit just below the Galaxy S phones in terms of features and specs. The A9 adopts the same metal-and-glass design as the A7, A5, and A3, which debuted earlier this month. The A9 is powered by an octa-core Snapdragon 652 processor (formerly Snapdragon 620) with 3 GB of RAM and 32 GB of storage. Unlike the Galaxy S series, the A9 includes a memory card slot with support for microSD cards up to 128 GB. The Galaxy A9 boasts a 13-megapixel f/1.9 main camera and 8-megapixel user-facing camera. A 4,000mAh battery is sealed inside, although it supports QuickCharge for rapid charging. Last, the A9 adds a fingerprint sensor to the home button with support for Samsung Pay. The Galaxy A9 is launching in China first. Samsung hasn't said if the A9 will be sold in other markets.
from Samsung
more info at Sammobile »
I would so get this!
If Samsung would not charge exorbitant amounts of money for their phones.
The specs, the micro SD card port, etc.,
Too big for you , not everyone
The overwhelming majority of phones that you have to choose from are smaller than 6 inches. Why comment on this one being too big when you have SOOOOO many more to choose from?

I don't care for the smaller phones but there are endless choices if you like the sub 6 inch screens. Have some sympathy for the big screen crowd. Slowly but surely the world has moved to bigger scenes. Check the iPhone. The Note. The Galaxy S series. Not just phones , it's everything - look at the Honda Civic over the years .... bigger and bigger.
I agree. I've been pining for a larger phone ever since the day I got my first Note. I loved the size, but quickly realized I would be just fine with a device up to 6.2 or 6.3 inches. I think they should shove all the awesomeness of the Note 5 into a ...
(continues)
So here's the question: how big is too big for you? Seven inches? Eight? At what point do you say it is enough? A six-inch phone will fit into cargo pants and suit jackets, but that becomes your entire wardrobe. Unfortunately, clipping that phone to y...
(continues)
Too Big!
No thanks. A phone should be small and lightweight -- this monstrosity is neither. A four-inch screen is large enough for photos, short videos, and most apps. For those looking to replace the home computer, watch movies, and play games -- buy a tablet! They're cheaper, bigger, and better suited for the aforementioned activities.
Amen to that. I am a samsung user myself(tried using the S5 and Note 4), but 6 inches? really? Even with the Note 4, I was struggling to keep it inside my pocket. Rather stick with what I have now.