Apple Releases iOS 9.2 for iPhones and iPads
Article Comments 1
Dec 8, 2015, 1:38 PM by Eric M. Zeman @phonescooper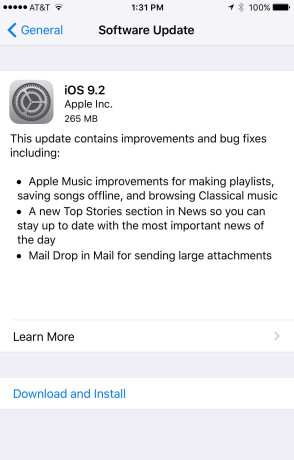 Apple today made iOS 9.2 available in to iPhone and iPad owners. The minor update, which Apple has tested in beta extensively over the last month, improves Apple Music by making it easier to create playlists, save songs offline, and browse through classical music. The update adds a new Top Stories section to the News app and redesigns it a bit so it more closely resembles a newspaper. The update also tweaks Mail Drop in Mail for sending large attachments, and makes numerous bug fixes. iOS 9.2 is free to download and install over the air.
from Apple
Still plagued with bugs and UI fails
Have they fixed the annoying UI "feature" where it takes 17 attempts at tapping a video you received from a friend for it to start playing in full screen? What about the voicemail interface where you press the Play button 5 times to get the voicemail to play? Ugh, Apple has really gone downhill since IOS 8...