Review: Motorola Droid Turbo 2 for Verizon Wireless
Hardware Software Wrap-Up Comments 1
Nov 5, 2015, 10:00 AM by Eric M. Zeman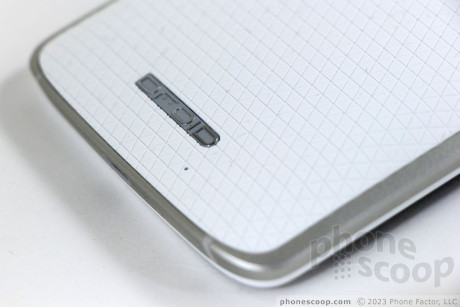 The Turbo 2 is the most advanced Droid Motorola has ever created for Verizon Wireless. The handset boasts an "unbreakable" screen and two days of battery life, making it ideal for clumsy oafs who need all-day power. The Turbo 2 runs Android and includes Motorola's helpful apps, such as Ambient Display and Moto Assist. Here is Phone Scoop's in-depth report.
Is It Your Type
Motorola is playing to a very specific type of person with the Turbo 2. This Droid features an "unbreakable" screen, which makes it great for klutzes who can't seem to keep their phone in their hands. The Turbo 2 also boasts 2-day battery life, which makes it ideal for power users who need as much uptime as possible. If you have a drawer full of broken phones or spare batteries, the Turbo 2 may be the answer to your butterfinger-flavored dreams. 
Body
The Motorola Droid Turbo 2 is a substantial piece of hardware. It is not fully rugged, but it is protected from the most common form of injury: drops from waist-height. The dense display, metal frame, huge battery, and heavy-duty polycarbonates make for a weighty handset.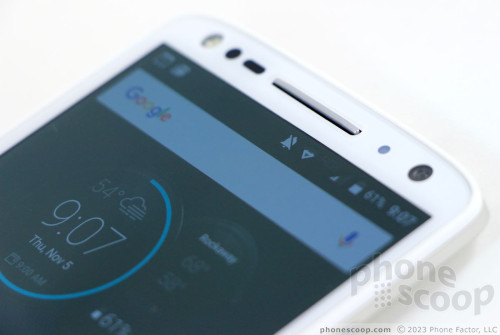 The Turbo 2's design is very closely related to that of the 2015 Moto X. The basics include an aluminum frame along the outer edge, white/black glass panel on front, and options for the materials/colors for the rear. The camera module stands out visually thanks to a metallic housing, and the edges are tapered a bit to help the phone fit better in your hand. 
Like the Moto X, consumers can customize the T2. Motorola says there are about 1,000 different ways to configure the phone. Moto Maker allows users to select from three different frame/face combos, three leather colors, five nylon colors, or six soft-grip colors. People ordering from Moto Maker may also select from a handful of accent colors, engraving (leather only), and a personalized home screen greeting. Verizon stores will offer a handful of pre-configured designs so those shopping in retail locations will have at least some choice when picking a Droid Turbo 2.
The Turbo 2 is a gigantic phone. The display measures 5.4 inches, and the added protective measures increase the size of the bezels and swell the overall footprint. This is not a handset for people who prefer smaller phones. It often requires two hands and may not fit into all pockets, or at least not fit comfortably. Even being accustomed to large handsets, I was still surprised by the weight. You can really feel it when it's in a pant or coat pocket. 
Build quality and materials are top-notch. Everything about the T2 is fitted tightly together. I like the combination of different textures and the phone feels strong as hell.
The front surface is a busy, busy place (we'll talk about the ShatterShield later). The Turbo 2's glass sits within the frame, which forms a small, raised lip all the way around. This helps provide an added layer of protection to the screen. (Its cousin the Moto X, by comparison, relies on curved glass that fits into the metal frame seamlessly.) I like the Moto X's edge treatment better, but I understand the reasons behind the T2's design. Above the display, you'll note the selfie cam, its flash, the speaker grille, and several sensors. It's no less busy below the screen, where the speaker has been split into two to accommodate the Verizon logo. These elements are much less visible if you choose a black front.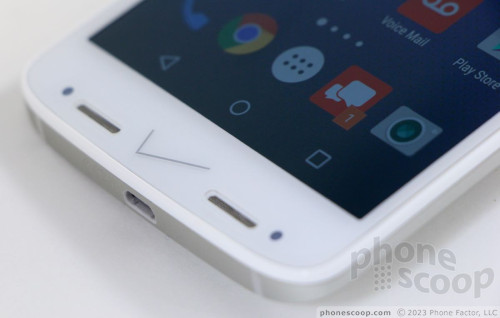 The screen lock button is located on the right side of the phone. It has a nice ribbed texture so it stands apart from the volume toggle which is located below it. I like the travel and feedback of both these controls, but I wish the volume toggle were a little bit longer. A longer button would make it better for accurately raising/lowering the volume. The SIM tray and headphone jack are on top. The SIM tray includes a slot for microSD memory cards. The USB port is on the bottom. 
You cannot remove the T2's rear panel, nor the 3,760 mAh battery underneath. This may be a deal breaker for some. 
As a modern slate, the T2 looks good, feels good, and functions well from a hardware perspective. 
ShatterShield
Motorola said it spent years creating the T2's unbreakable screen. The technology behind the screen is impressive mostly because it delivers on its promise: After a week of dropping the T2 on every type of surface imaginable, I could not break the screen. 
The ShatterShield display element is formed by five layers. The first is a rigid aluminum core to provide structural integrity. A flexible AMOLED display is placed on top of the aluminum core. The flexibility of the AMOLED helps absorb shock. The third layer is a dual touch layer to add redundancy in case of touch panel failure. The fourth layer is an "interior lens" that provides a shield against breakage. The fifth and outermost layer provides a hard cover to protect against scratches and other normal wear and tear. 
I probably dropped the T2 100 times over the course of writing this review. I dropped it from waist height and shoulder height onto concrete, pavement, ceramic tile, grass, dirt, gravel, hardwood, laminate, linoleum and carpet over concrete, paving stones, and iron plating. Not a scratch. During the T2's launch event, Motorola dropped the phone face down onto concrete. That's fine, but dropping a phone on its corner can be even more dangerous. I tested all manner of angles to be sure the handset impacted the ground on the corners, edges, sides, back, and front. Not a scratch. 
I imagine I could (eventually) break the screen with a hammer or other tool, but Motorola created ShatterShield to protect against the most common breakage scenario: drops. In that respect, Motorola succeeded and the T2 lives up to its "unbreakable" billing. 
Keep in mind, however, that the T2 is not a fully rugged handset. You can't use it as a hockey puck or throw it out a window. It is not waterproof. You can't dunk it in the sink or take it swimming, although a nano-coating of the interior does protect the handset from accidental splashing, sweat, and rain. 
Screen
The T2 features a 5.4-inch quad HD screen (2,560 x 1,440 pixels). It's a big, pixel-rich display, but it is hiding behind three layers of protection. Each layer robs the T2 of brightness and clarity, even if only a small amount. I found the screen to be adequate in terms of brightness, but it could be much better. The Droid Maxx 2, which uses an LCD display rather than AMOLED, is markedly brighter and clearer. The T2's display also leans a bit toward the warm side, which means whites look too much like yellow. Motorola is clearly limited by the properties of physics here. It can only do so much to push light through all those layers of material without impacting brightness and hue. I was able to see the screen outdoors without issue, and viewing angles are pretty solid. The T2's display is decent, but I've seen better.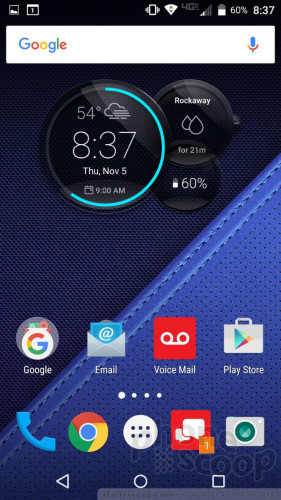 Signal
The T2 runs on Verizon's LTE network. The phone remained connected to LTE without fail while I tested it. I was able to connect calls on the first dial each and every time no matter how strong or weak the coverage. The T2 never dropped any calls, even at highway speeds, and didn't miss any, either. Data speeds on LTE were quite impressive. I was pleased with app downloads, photo uploads, and simple web browsing when out and about. The T2 performed flawlessly from a cellular network perspective. 
Sound
Calls placed over Verizon's legacy voice network were inconsistent as far as quality was concerned. About one-third of calls were marred by scratchiness and distortion. Moreover, voices often sounded like they were coming from the next room, rather than through a speaker next to my ear. Volume is acceptable for regular places you might go (work, quiet coffee shops, etc.), but it's not loud enough for noisy city streets or busy bars/restaurants. The quality and volume issues spill over to the speakerphone, as well. I was hoping for clearer, louder calls via the speaker, but the T2 delivers average performance at best. 
In the T2's defense, I will say this: calls made via LTE are dramatically better than standard cellular calls. The T2 supports HD Voice and VoLTE, and as long as you and your caller are both covered by LTE, HD Voice calls sound much clearer than those over CDMA. 
Ringers and alerts are good enough, and the vibrate always got my attention. 
Battery
One of the T2's key selling points is 2-day battery life. Motorola endowed the T2 with a massive 3,760 mAh battery and it almost delivers on Motorola's boastful claims. There's no question that the T2 will power through a full day with plenty of power to spare. The battery often had 50% or more capacity left at the end of the day. On the second day, the battery was generally able to make it to dinner time before it became entirely depleted. That's just short of 2 days in my book, but still far better than most other handsets.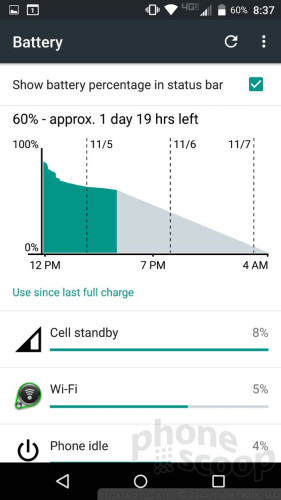 The T2 supports rapid charging and wireless charging. The TurboCharger that ships with the phone can deliver 13 hours of battery life in just 15 minutes. In other words, the T2 requires little charging and when it does, it will charge up quickly. You can't ask for much more than that.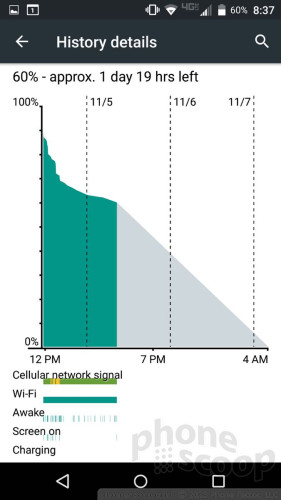 Motorola didn't bother to give the T2 any advanced battery saver tool; instead, it ships with the standard Android system battery saver, which can be controlled manually to reduce power consumption. 
Bluetooth, GPS, NFC, WiFi
The Bluetooth radio functioned perfectly as far as pairing with and connecting to speakers and headphones was concerned. Calls were pretty miserable via Bluetooth in my car and with high-quality headphones. The NFC radio worked great for aiding Bluetooth pairings. 
Together with Google Maps, the T2's GPS radio located me quickly and accurately. The WiFi radio didn't give me any trouble whatsoever. 
clumsy oafs? klutzes?
Sorry if you've never dropped your phone. I can't say I drop mine every day, or every week, or even every month. But seriously YOU Eric M. Zeman have never dropped your phone? if you did and it didn't break, did you think you were a klutz or a clumsy oaf? or better yet did someone call you those names if they saw you do it? I never have a case on my phones and I rarely drop the phone I carry 2 phones, a Note Edge, and a T1 both for over a year with couple dents from dropping them, most of the time I am able to put my foot out and cushion the drop, but it happens. Any of those drop times in the wrong spot, and the screen can break. in fact broken screens are a huge problem with 25% of all cell phones having broken screens. that is mil...
(continues)