Review: Alcatel Onetouch Conquest for Boost Mobile
Hardware Software Wrap-Up Comments
Lock Screen
Alcatel's lock screen treatment doesn't stray far from the Android norm. Some phone makers let you wake the lock screen by tapping on the display or waving your hand over the glass. There are no such fancy tricks here. The only way to turn the screen on is to press the lock screen button.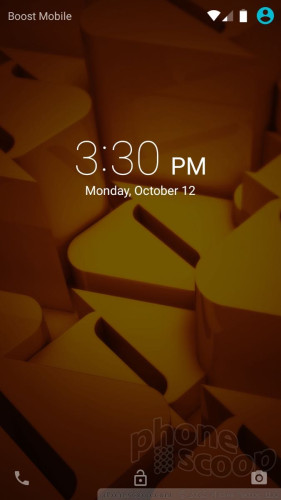 When you do, you can see the clock in the upper one-third of the display, followed by alerts below it. There are also a few shortcuts, such as to the phone and camera, positioned at the bottom of the screen. The notification shade is accessible from the lock screen whether or not you've chosen to secure the phone with a password, pattern, or PIN.
AD article continues below...
Alcatel's lock screen tools are basic for an Android handset.
Home Screens
The Conquest runs Android 5.0 Lollipop with Alcatel's light-weight skin on top. The home screen, app drawer, and settings tools all behave just the same as on other handsets released by Alcatel this year, such as the Idol 3. Alcatel may use its own app icons, but pretty much everything else is standard Google Android. The settings screen and main app drawer, for example, are pure Android.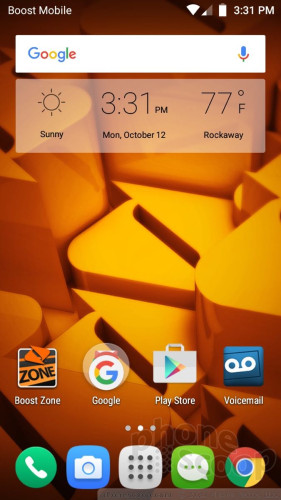 Alcatel doesn't offer any unique or interesting apps/tools to really set its home screen experience apart from that of its competitors, but that's pretty much the point.
As far as performance is concerned, um... yikes. The phone has a 1.2 GHz quad-core Snapdragon 410 processor. It also has 1 GB of RAM. I've tested countless phones with this processor/memory combination, but the Conquest is the slowest, laggiest, most frustrating of the bunch. Apps are slow to open, screens are slow to transition, and the entire experience feels like it is trodding through molasses at times. The slow performance really hinders the ability to enjoy this phone. It was also subject to random reboots. Annoying.
Camera
There is no camera button, which means you have to use the software tools to open the camera. It takes a second or so to launch.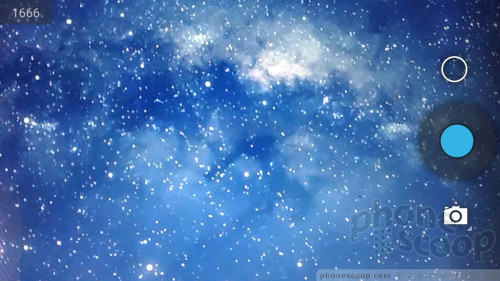 I'm not quite sure what Alcatel is thinking with the camera software. For reasons unknown, the Conquest uses the stock Android 4.4 KitKat camera application. Yep, you read that correctly. It doesn't use the Android 5.0 camera app, nor a custom camera app from Alcatel, it uses software that's nearly two years old. It's an app so poor that almost every other manufacturer replaced it in their Android phones, even if they left the rest of the software alone.
The viewfinder is almost entirely devoid of controls. The shutter button (on the right) is large, and it's easy to switch to one of the base shooting modes (normal, panorama, barcode, or video) thanks to a selector below the shutter button.
A circle on the right side of the screen — confusing at first — will open the settings menu. From there, you can dig in a bit and control exposure, image size, white balance, the flash, and so on. These menus are pretty, but futzy and relatively difficult to manipulate thanks to their odd semi-circular nature. You can also access these by swiping up from the bottom of the screen. They take too many steps to access and just aren't intuitive.
The one saving grace is that the camera is quick enough to focus and capture images. I wasn't disappointed there. It may have opened a bit slowly, but the camera responded when you pressed the shutter button.
The Conquest has a curious range of video-recording features. It can capture in resolutions from QCIF (really crappy) to Ultra HD (4K). By default, video length is limited to 10 minutes. If you want to record something longer than 10 minutes, you'll need to adjust that setting to 30 minutes (the maximum.) It's not clear why it's limited by anything other than the battery and storage, nor why the default is a seemingly-arbitrary cap at 10 minutes.
Photos/Video
The Conquest has a 5-megapixel main camera and a 2-megapixel selfie camera. Neither produces anything to write home about.
The main camera captures average photos at best. The Conquest managed to set exposure and white balance accurately about half of the time. More often, it had trouble with focus. Indoor shots, in particular, were incredibly soft and disappointing in terms of grain.
The selfie camera doesn't impress at all. I can't say I was expecting much from a 2-megapixel shooter, but the lack of focus and odd exposures were still disappointing. If you accidentally snag a lamp or candle in the background, for example, it will totally blow out the image and make a mess of things.
The camera is passable at best. It's inconsistent and weird enough that I wouldn't rely on it for everyday needs. I'd be sure I had access to a better camera any time I cared about the quality of the photos I might take that day.
The Conquest does a better job of capturing video than it does pictures, but that's not saying much. I wouldn't trust the Conquest for anything more than really random I-don't-have-anything-better-to-use images/video.
Boost Stuff
The Conquest has just 8 GB of internal storage, and only 3.93 GB of that is available to users. In other words, a memory card is more or less essential if you plan to shoot a lot of pictures or listen to a lot of music. Large games could also be an issue.
Most carriers like to cram their handsets full of bloatware. Boost added plenty of its own apps and services to the Conquest, including 1Weather, AirG, Amazon, Boost 411, Boost Music, Boost TV, Boost Wallet, Boost Zone, Gadget Guardian, Messaging+, NextRadio, and Uber. Of these, perhaps Boost Zone is the most useful, as it allows people to manage their accounts. The Messaging+ app is a more robust way to manage SMS convos. You can uninstall only a few of the apps listed here. Even if you do, you won't recover that much storage space.