Hands On with the Lumia 550
Article Comments
Oct 6, 2015, 1:51 PM by Rich Brome @rbrome
updated Oct 6, 2015, 2:04 PM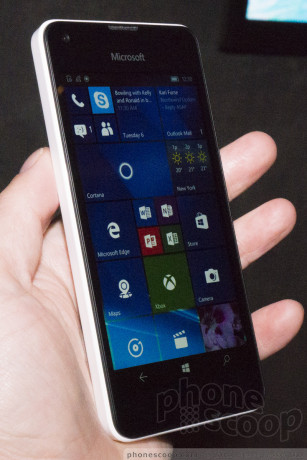 The 550 is Microsoft's new affordable Windows 10 phone. It has a remarkably low price for a device with an HD screen. How "affordable" does it feel in person? Read on to find out.
Advertisements article continues below...
The Lumia 550's price of $139 is designed to get price-conscious consumers in the door and using Windows Phone. Of course you can get an Android phone for less, but $139 is quite competitive for a phone with a 4.7-inch HD display and 4G LTE. That puts it right in the range of the Moto E.
The 550 has impressive build quality and design for a phone in this range. The plastic is glossy, which doesn't feel great, but at least the white color option hides fingerprints. The side keys have some wiggle, but work well enough.
If it weren't for the glossy finish, I'd probably say that the design and feel are a hair better than the top-end Lumia 950 and 960 XL, also announced today. This is great-feeling phone at this price.
Also nice is the removable shell, giving access to the battery and a memory card slot.
The Snapdragon 210 processor is low-end, but that's expected at this price. Previous versions of Windows Phone have been very efficient, working well on these kinds of lower-end processors. It's too early to say if Windows 10 will continue that trend. We hope so.
The 550 isn't capable of the nifty Windows Continuum feature that turns your phone into Windows desktop. That's reserved for high-end Windows 10 phones. But you get pretty much every other Windows 10 feature, which is a lot of software punch.
Microsoft is being coy about the Lumia 550 coming to the U.S.. We're not sure it will. It will roll out in Europe first, in December, followed by "other key markets". So if it comes here, it won't be in time for the holidays, which is unfortunate.
No messages