Metal-Clad Nexus 6P Made by Huawei
Article Comments 9
Sep 29, 2015, 11:13 AM by Eric M. Zeman
updated Sep 29, 2015, 12:42 PM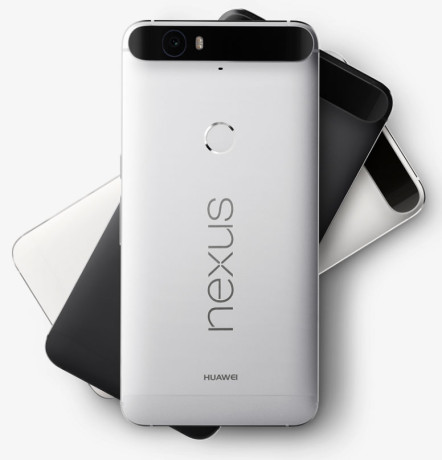 Google today announced the Nexus 6P, one of two new Nexus-branded smartphones and the first ever to be made by Huawei. The Nexus 6P is a slim, upscale handset skinned in aluminum. The 6P has a fingerprint sensor on the back for security and Android Pay authentication called Nexus Imprint. The phone has a 5.7-inch quad HD screen and is powered by Qualcomm's Snapdragon 810 processor with 32GB, 64GB, or 128GB of storage. The phone boasts a Sony 12.3-megapixel main camera with f/2.0 aperture and an 8-megapixel user-facing camera. Google says it improved the camera with burst mode and slow-motion video capture. Further, double-tapping the home button will launch the camera even when the phone is locked. The Nexus 6P has what Google calls the Android Sensor Hub, which includes activity and gesture recognition along with power management techniques to keep battery drain at a minimum. The 6P packs a large 3,450mAh battery, includes a USB Type-C port and charger, and offers stereo speakers on the front. The Nexus 6P runs Android 6.0 Marshmallow and will be sold unlocked directly by Google. The phone costs $499 for 32GB, $549 for 64GB, and $649 for 128GB. Pre-orders start today and the Nexus 6P will ship in mid-October.
Nice but
The BLU Pure XL just released is giving this a real run for its money.
Main difference is the MediaTek processors.
Still, just as big a beast.
Its the best Huawei yet...
Im not typically a chinese phone fan but this is a nice handset, it feels good in the hand, the fingerprint reader is quick and accurate and the camera is pretty sweet.
I'm not so worried about quality control issues, since google put their name on it, they aren't going to put out a phone with a high return rate or crap manufacturing. Now they have the new protection program too, I havent read the fine print yet, but meh, others offer similar so they might as well too.
All in all Im pleasantly surprised, Im betting this will be the year that chinese manu's make big inroads into the US market with a few high end handsets.
Knock on Apple all you want....but....
What is up with all these Android phones? It's gotten WAY beyond the three bears - have you seriously walked into a cellphone store and just counted how many Android devices there are - all the while thinking what in the hell is the point of all of them?


Now they're all going to fingerprint readers, sealed batteries and no SD cards. Doesn't sound like they're going anywhere different than Apple.
Really?
Huawei is making the Nexus? The field for a new phone just gets more and more narrow. It seems no one wants to make an appealing Android device this year. Maybe I'll just hang onto my Note 3 and see what 2016 brings us.