Microsoft Trots Out Nokia 222 Feature Phone
Article Comments 1
Aug 25, 2015, 7:05 AM by Eric M. Zeman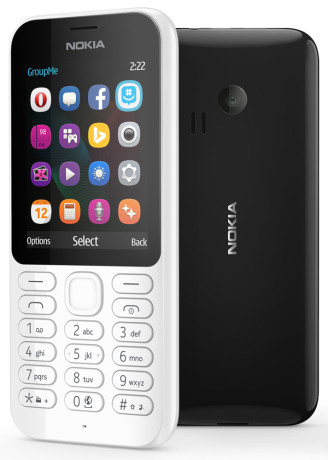 Microsoft today announced the Nokia 222, a bar-style feature phone that runs Nokia Series 30+ and includes only the most essential functions. The Nokia 222's core apps include MSN Weather, Bing Search, Opera Mini, as well as Facebook, Facebook Messenger, and Twitter. The device has a 2.4-inch QVGA display, an 1,100mAh battery, and a 2-megapixel camera. Other features include Bluetooth 3.0, stereo headphone jack and FM radio, support for 32GB memory cards, and SLAM photo-sharing technology. The Nokia 222 goes on sale in September and will cost about $37. Based on its limited dual-band 900/1800MHz GSM/EDGE support, the phone will likely not be sold in the U.S.
Essential functions?
You say it only includes essential functions, yet it has Facebook built in. Last time I checked, social network was not essential.