Bing for Android Can Better Search Through Other Apps
Article Comments 1
Aug 20, 2015, 9:11 AM by Eric M. Zeman @phonescooper
updated Aug 20, 2015, 9:12 AM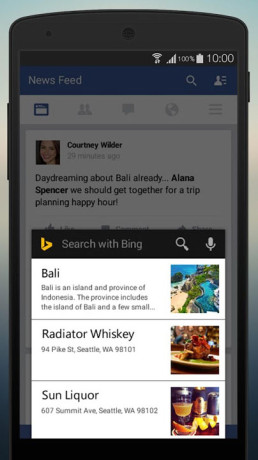 Microsoft today updated its Bing Search app for Android devices and gave it the ability to perform searches from within other applications. The feature, called Bing snapshots, scouts things mentioned on any given page and provides relevant information about them in snapshots. Users need only long-press the home button when surfing the web or browsing Facebook and Bing will automatically search the current screen for details for display. It works similar to Google's forthcoming Google Now On Tap feature in that it is contextually aware. In addition to the updated app, Microsoft is making a new Bing API available to developers so they can integrate the search functionality into their own apps. Bing for Android is free to download from the Google Play Store.
more info at Play Store »
more info at Microsoft »
Greeeeat
Just what I wanted - Google and Microsoft spying on EVERY app I have and not just the ones they provide. Anyone who thinks it'll only happen when the users asks for it is dreaming.