Review: HTC Desire 626 for AT&T
Hardware Software Wrap-Up Comments 1
Lock Screen
HTC's lock screen hasn't changed much over the years and it still offers several basic features.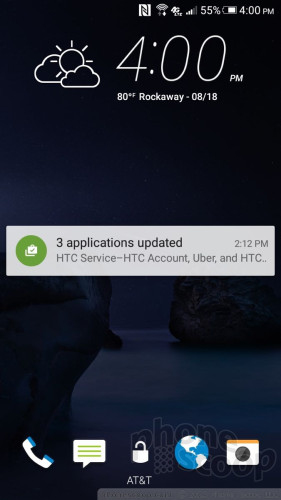 Users can select from five different lock screen behaviors, depending on how you care to secure the handset. The simplest offers no lockscreen at all; pressing the screen lock button takes you straight to the home screen. The second displays the lock screen, but doesn't require a password. The other three options each require a different type of password (PIN, pattern, alpha-numeric password). All but the first show the clock, notifications, and shortcuts.
I wish you could control the appearance of the clock, but you cannot. The lock screen itself doesn't do anything unique or special to showcase notifications; instead, you'll need to tweak notifications at the OS level to prevent that most recent phone call or text message from spilling your dirty secrets. The lock screen supports up to five shortcuts, which you can customize at will.
Home Screens
The Desire 626 runs Android 5.1 Lollipop with the newest rendition of HTC Sense on top. Sense is one of the heavier-handed user interface skins. Sense has its own fonts, icons, graphics, and settings tools. It is relatively easy to get a handle on, and offers a rich set of personalization features.
The home screen panels and notification shade work pretty much the same as they do on all Android handsets. HTC's app menu offers a lot more flexibility than the stock Android version, as it allows users to arrange apps alphabetically, in a custom arrangement, or via most-recently-used. It also lets people change the size of the grid, as well as hide and otherwise manage apps.
HTC included its BlinkFeed social news reader app, which is, by default, the left-most homescreen panel. You can disable it if you want.
Customizing the home screen appearance is a key trait of Sense, and that's no different on the Desire 626. Users can change the navigation buttons, select from 9 preinstalled themes, and then tweak each theme with various accent colors, wallpapers, keyboards, fonts/sizes, and on and on.
Performance is my greatest worry with the Desire 626. The phone is kneecapped by a 1.1GHz Snapdragon 210 processor. I found it often wasn't up to the task of keeping the Desire 626 running smoothly. Apps were slow to load, screens were laggy in transition, multitasking was an exercise in frustration. The phone slogged through app installs and updates. It's borderline, my friends.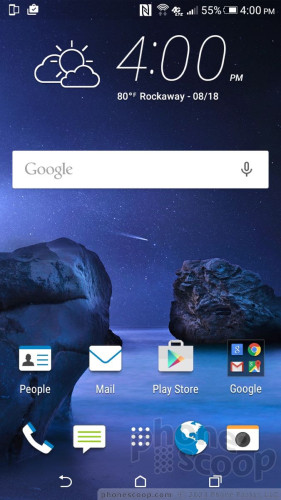 Camera
The Desire 626's camera app is almost a direct carryover from the One M9's camera app, minus some of the best features. You can open the app from the lock screen, but there is no dedicated camera button.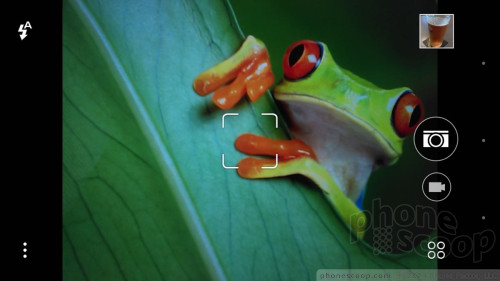 The basic viewfinder includes separate shutter buttons for the camera and video camera, a button to switch between the different shooting modes, and access to the gallery. The camera also has a flash toggle and an in-depth menu/settings tool.
The 626 ships with three main shooting modes: normal, selfie, and panorama. These are self-explanatory. In addition to the dedicated camera mode switcher, you can jump between the modes quickly by swiping your finger up or down on the screen, similar to the One M9. Unlike the One M9, however, you cannot download and install other shooting modes, nor can you create your own custom modes. That's a bit of a bummer.
The settings offer a reasonable degree of control over the camera's behaviors, such as ISO, exposure, and white balance. You may also select from several different scenes, such as night, HDR, portrait, landscape, and macro. The deep-down options menu lets you set aspect ratio, "make-up level" (software-controlled beautification), review duration, sounds, etc.
The camera app isn't too fussy or complicated, and offers a nice balance of features. You can just as easily enjoy point-and-shoot behavior as you can more fine-tuned creativity. It's up to you. The camera is relatively quick to open and shoot photos.
Photos/Video
The Desire 626's main sensor captures 8 megapixels. I'd call the photos average. Some had sharp focus, good white balance, but weird exposure, while others had soft focus, odd colors, and perfect exposure, and so on and so forth. Rarely were all three qualities spot on. Grain was present in every low-light image I took, flash or not. I'd trust the 626 with everyday snapping needs, but not for anything important.
The selfie cam can snag 5-megapixel images. They were mostly a grain-filled mess, with some random acceptable exposures tossed into the mix.
I was more pleased with the ability of the 626 to capture reasonably good video. It maxes out at 720p HD, but it does well enough with exposure, color, and focus to make up for the lack of pixels. I wouldn't use it to record a relative's wedding, but might rely on it to capture some ducks swimming at the local park.
HTC/AT&T Stuff
AT&T continues to load its handsets with excrement. The Desire 626 has no fewer than 17 AT&T-branded apps pre-installed, which doesn't include third-party junk like Amazon or Lookout.
HTC's most interesting apps are the Zoe app and the related One Gallery app for making creative images and storing/sharing them online.