Sony Ericsson Rounds Out Launch With 3 Bluetooth Headsets
Article Comments 1
Feb 28, 2006, 3:54 PM by (staff)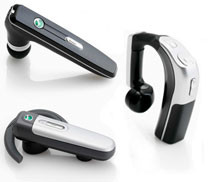 Sony Ericsson today at their phone launch continued the month-long parade of Bluetooth headsets, this time with new single ear models. The new headsets are due out in the third quarter - after the phones that were also announced today.
HBH-IV835: Sony Ericsson joins the tiny in-ear headset crowd. A small bud fits in the ear and a thin boom for the microphone extends from the body. Features automatic volume adjustment and DSP. Also features Sony Ericsson's new Auto pairing.
HBH-GV435: Designed for all-day use, the bulk of this model wraps around the ear, leaving just a small earbud visible. Like the IV835, it features DSP and automatic volume adjustment, and auto pairing. The GV435 adds Bluetooth 2.0, which is included in many of SE's new phones.
HBH-PV705: The most recent version of Sony Ericsson's "Akono" style headsets. This model retains the same form and functions as previous models. Like other recent versions, the PV705 no longer features an LCD screen.