ZTE Max+ for Boost Bumps Up Specs
Article Comments 2
Jul 17, 2015, 8:10 PM by Rich Brome @rbrome
updated Jul 17, 2015, 10:08 PM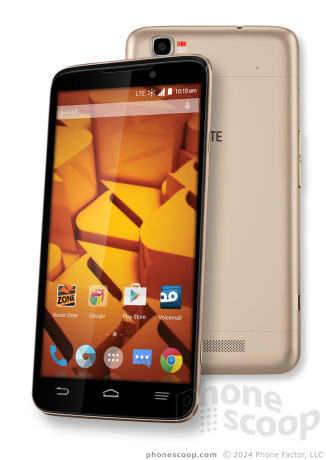 Boost Mobile today listed the new ZTE Max+ for sale on its web site. The spec bump improves the memory, processor, and battery compared to original Max. The internal storage memory has been boosted from 8 GB to 16, and the RAM has also been doubled, from 1 GB to 2. The processor has been updated to the newer Snapdragon 410. The embedded battery receives a modest boost from the already-large 3,200 mAh up to 3,400 mAh. The design is also updated, featuring a rounded gold back. Other specs are similar, including the huge 5.7-inch 720p display, 8-megapixel main camera, 1-megapixel front camera, and memory card slot. The Max+ runs Android 5.1 and supports HD Voice. Like the original Max, the Max+ supports 4G LTE, but only in the primary band of the Sprint network, not the two other bands necessary for the faster Sprint Spark service. The Max+ is selling for $199, which is $100 less than the original Max at its debut.
more info at Boost Mobile »
ZTE
No SD card slot
Would be nice if both the Max and Max+ had a SD slot. Max+ is a little bit of a upgrade. But I would like for it to use my 64GB. Sorry ZTE. you fail me again.
It DOES have a memory card slot.