Review: Microsoft Lumia 735 for Verizon Wireless
Form Performance Basics Extra Wrap-Up Comments 1
Media
The Lumia 735 includes several media apps and services. To start, it offers the extensive catalogs of Microsoft Music and Video, which both hook into its XBox entertainment empire. You can also sideload your own music and videos.
MixRadio is also aboard. MixRadio was created by Nokia, temporarily owned by Microsoft, and later spun off to a company called Line. MixRadio is a really good (free) alternative to services like Pandora or Slacker for listening to streamed, curated playlists on the fly.
AD article continues below...
Slacker Radio and Verizon's ever-present NFL Mobile app are also preinstalled. Slacker is a decent third-party music streaming service, but MixRadio is better. Verizon's NFL Mobile app is pretty good, but is a waste of space of you're not a football fan.
The 735 includes an FM radio for good measure. I found it worked well in my neighborhood.
Camera
The Lumia 735 includes the rich Lumia Camera application, the simpler Windows Phone camera app, and a dedicated app for taking selfies. I'm not quite sure why Microsoft put so many camera apps on the 735, but hey, choice!
As noted earlier, the Lumia 735 doesn't have a dedicated camera button. The camera is available on the lock screen via the notification shade. You have to turn the screen on, swipe down to open the shade, then press the camera button. That's two steps too many in my book.
The Lumia camera user interface will make most users feel right at home thanks to its plain arrangement. The settings, camera, and video camera are all accessed via buttons placed on the right edge of the screen. Alternately, a long-press of the camera button will force the 735 to capture video instead of a photo.
A small strip of options floats at the top of the viewfinder. The default view of this strip lets you switch to the front camera, turn on the flash, or turn on Rich Capture Mode. This mode purports to do a better job of getting accurate exposure, focus, and color. These three tools are simple and let you snap away with ease.
If you're interested in more control over the camera, press the little arrow visible in the strip. This puts the phone into manual mode, You can manage white balance, exposure, ISO, brightness, and focus all on your own. For knowledgeable users, these tools open the door to creativity.
The basic Windows Phone camera app is quite simple to use and hasn't changed at all in the last few years.
If you want to snag the best-possible self portrait, the Lumia Selfie app gives you the tools to get it done right. Selfie mode includes a timer and some quick editing tools, such as cropping and mirroring, so you can make adjustments before sharing to social networks.
Photos
The Lumia 735 has a 6.7-megapixel sensor. It shoots in 16:9 aspect ratio by default and that uses all the pixels. You can shoot in 4:3 mode, but that crops the images down. You can change the aspect ratio after the fact, too, if you wish.
Lumia phones generally have good cameras and the 735's is quite impressive. The images I captured were sharp, properly exposed, and well-balanced with respect to color. Outdoor shots looked best and were free of grain and noise. Indoor shots introduced a noticeable amount of grain. The flash is acceptable at short distances. You can surely use the Lumia 735 for everyday photography. I'd be tempted to switch to something else for real photography needs, but the 735 lets you get by.
The user-facing camera captures 5 megapixel images. Together with the Lumia Selfie mode, the 735 is above average at capturing self portraits, as long as you're outdoors. Outside selfies, with plenty of lighting, looked really good. Indoor selfies, where it is often darker, were saturated with grain.
Video
The 1080p HD video I captured with the 735 was fine, but not exceptional. Focus, exposure, and white balance were generally accurate and the results were solid for everyday use. I'd switch to dedicated video equipment for real videography needs.
Gallery
Microsoft's Photos app is decent for organizing your images. Photos are sorted into three folders: the camera roll, online albums, and favorites. Switching between them is simple. The phone can be set to automatically sync the camera roll with OneDrive, which is a good way to back up your photos.
Editing functions are severely limited. The Photos app includes crop, rotate, and auto-enhance. That's about it. You can also choose to open photos in the Lumia Camera application, which has its own editor. In this app, you can adjust the crop (16:9, 4:3, 3:2, 1:1) or rotate. There are no advanced editing tools for tweaking white balance, brightness, etc.
Sharing tools are restricted to the onboard messaging and social networking apps.
The 735 includes the Lumia Storyteller app, too. This will automatically create fancy albums based on the time and location in which you shoot batches of photos. You can then choose to upload these "stories" to Microsoft's web site, where they can be shared via web links. Stories can be public or private.
Apps
The Lumia 735 has 16 GB of storage, about 10 GB of which is available to users. This is enough for apps, but perhaps not enough for music and videos (thank goodness for that memory card slot!) Verizon's apps include MyVerizon Mobile, NFL, and VZ Navigator. Microsoft has a bunch of its own apps onboard, as well, but I'd say the bloat level is acceptable.
Bluetooth
The Lumia 735 wirelessly connected to Bluetooth headsets, stereo headphones, PCs, and other devices with ease. It happily shared information — such as my contact list — with my car's hands-free system. The 735's Bluetooth radio worked as intended as far as phone calls were concerned. Quality of conversations was quite good. The phone supports the basic A2DP stereo profile, but not the high-quality aptX music profile. That means music sounded OK through my Bluetooth headset, but not as good as other phones are able to produce.
Browser
Internet Explorer is capable of rendering web sites quickly and accurately on the Lumia 735's display. The browser worked well with Verizon's LTE 4G network. The address bar and other controls are placed at the bottom of the screen, closer to your thumb, which go a long way to improving usability. Perhaps the most helpful feature is Data Sense to help manage your monthly data usage.
Clock
Need to check the time? Press the lock button to wake up the Lumia 735. The clock, positioned close to the bottom of the screen, is bright, large, and easy to read.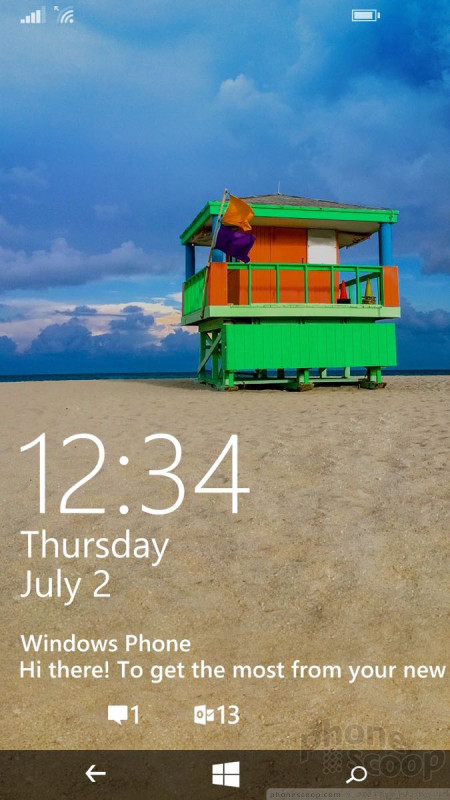 Cortana
Cortana is a voice assistant similar to Google Now and Siri. Cortana can perform voice searches, dictate messages, and keep track of your calendar appointments. Cortana isn't quite as good as Google Now, but it's better than Siri. The reminders feature is one of the best. Cortana also parses the Internet for items related to your interests, such as news headlines, sport scores, the local weather, and more.
Cortana controls Quiet Hours and Inner Circle. Quiet hours are used to silence notifications during set periods of time, such as at night. The inner circle represents the closest of close contacts — typically family members — that are permitted to disturb you during Quiet Hours. Last, Cortana can be used to listen to a song and search for it on the internet.
Cortana is a great feature worth exploring and it performed admirably on the 735.
GPS
Nokia's HERE Maps and Nokia Drive are on board for your navigation needs. HERE Maps is a superb mapping application. It's fast and accurate. Are you going to be offline when traveling? No need to worry, because HERE Maps allows you to download maps for use when not connected.
The Nokia Drive app does a perfectly acceptable job of directing you between points. I was pleased with the speed and accuracy of the Lumia 735's GPS radio, which found the phone in quick order and kept up as I drove around New Jersey.
Microsoft Office
The Windows Phone versions of Word, Excel, and PowerPoint are excellent and more than adequate for managing productivity. OneNote is tossed in for good measure. All four apps sync with your OneDrive account for access from any Windows Phone or PC.
NFC
The Lumia 735, like many of today's smartphones, has an NFC radio positioned on the back surface. It is most handy when it comes to pairing with other Bluetooth devices. For example, I have a Bluetooth speaker that also contains an NFC radio. I tap the two together and, voila, they are paired without any of the regular hassle associated with pairing Bluetooth gear. In this respect, the 735's NFC radio worked perfectly. That's about the limit of the 735's NFC capabilities.
The 735 has a mobile wallet application, but it is expressly for loyalty cards, movie tickets, and so on. It doesn't talk to the NFC radio like Apple Pay does on the iPhone or Google Pay does on Android phones for mobile payments. You cannot use the 735 to power tap-and-go transactions at the local Quick-E-Mart.
You can, however, download an NFC writer application (made by Microsoft/Nokia) and code NFC tags on your own if you wish. Tags are available online and at some electronics stores.