Siemens Dipping Its Toe Back In American Waters
Article Comments 5
Feb 13, 2006, 2:06 PM by (staff)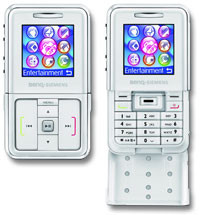 BenQ-Siemens announced two European HSDPA phones today, but the company also announced a GSM/GPRS music phone that will be available in an 850/1800/1900 version. The EF51 is a bar-style phone with a flip down keypad. The outer keypad features basic phone navigation and music controls, and flips down to reveal a numeric keypad and D-pad. The phone is music centric and features a miniSD slot for storage and Bluetooth including A2DP stereo headphone support. The music player supports MP3, WMA, and AAC+ and has an innovative interface that allows you to speak the name of a song, which the phone will then search your library for and begin play back. The EF51 also features a 1.3 Megapixel camera and stereo speakers. It is expected in the second quarter.
source: BenQ-Siemens
Hmmm
Can you say "hard on the eyes" regarding the menu's?? LOL.

Makes my Verizon UI absoultely beautiful!!
it does look a tad girlie (for lack of word that wont get me moderated 🙄 ), but i'm willing to bet just like all the other music phone there will be downloadable themes. just like the se w600i for example.

AND THEY WILL PUT YOU VZW UI TO SHAM...
(continues)
RETRO..........
those pycs of the phones remind me of the 70's. i wasn't aroung but just looking at the phone makes me think of that 70's show, fro's, bellbottems, and nova's.

they should of called it THE OLD SCHOOL SHOOBIE.

right on, jive turkey 😛