HP Updates Mobile Messenger
Article Comments 3
Feb 13, 2006, 11:07 AM by (staff)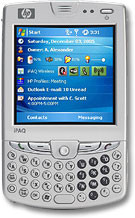 HP today announced an upgraded version of its Mobile Messenger device. The new hw6900 series is similar to the current hw6500 series, but upgrades to Windows Mobile 5, including the new Messaging and Security Feature Pack with push email. The device is otherwise similar, including quad-band GSM with EDGE, Bluetooth, full GPS, and a miniSD card slot, although the full-size SDIO card slot has been replaced with built-in Wi-Fi. The hw6900 series is expected to be available in the Asia Pacific and Europe, Middle East and Africa regions this spring and in North America in summer.
Differences between 5.0 and Windows mobile 2003
Does anyone have a specific differences between the new Windows mobile 5.0 and the last version? Thanks for any help.
the new windows has an upgraded applications assortment including mobile versions of internet explorer, word, excel, and power point. Also, updated security, more networking options, and easier accessability. its actually quite the OS. 🙂