Nokia Unveils GSM Trio, Including UMA Phone
Article Comments 6
Feb 13, 2006, 7:21 AM by (staff)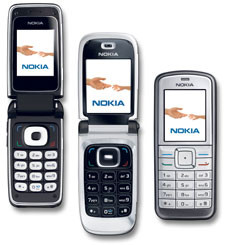 Nokia today announced three new GSM phones:
6136: The company's first phone with UMA technology for GSM / WiFi roaming. Clamshell design, quad-band GSM, 1.3 megapixel camera, microSD memory card slot, music player, FM radio, and speakerphone. Available initially for European carrier Orange.
6131: Clamshell phone with quad-band GSM, EDGE data, Bluetooth, 16.7 million-color QVGA display, color outer display, microSD memory card slot, music player, FM radio, and a soft-touch finish. A North American version will announced later in 2006.
6070: Bar-style phone with large display, VGA camera, FM radio, EDGE data, and MP3 ringtones. Available in tri-band versions for both Europe/Asia and the Americas.
All three phones are expected to be available in the 2nd quarter of 2006.
6131 "n. american" version
what's the point to making a different version, isn't that the point of quad band? 😕
the difference is not in the bands but in the software and features. the european version has visual radio (which doesn't exist in the US yet, i believe), and a music player. the american version does not have these, but may have additional software.
It's not clear. I didn't get a straight answer from them on that.

One PR person did say "WCDMA" in a reply to that question. They way he said it, he honestly could have mis-spoke, but it's possible the US version will be 3G and he let that slip by ...
(continues)
Is UMA Softare Carrier Specific???
The Nokia 6136 is to be first used on Orange Networks. Is the software such that it could be T-Mobile or any other UMA enabled GSM carrier or would you be forced to use only phones that are specifically branded for a particular carrier?