FCC Approves 3G Nokias, Cingular Does Not
Article Comments 39
Feb 6, 2006, 6:21 PM by (staff)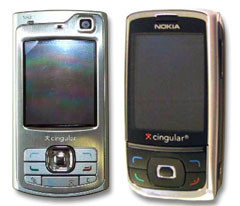 The FCC today approved the Nokia 6282 and Nokia N80, as originally spec'd by Nokia. When they were announced, both of the handsets included GSM 850/1900 and WCDMA 1900, but not WCDMA 850. Despite Cingular branding clearly visible on these models, the carrier will not sell these exact models. Phone Scoop has been told after they were announced, Cingular sent the phones back to Nokia asking for revised versions that support GSM and WCDMA 850/1900. These new versions are still under development and have not been announced nor approved by the FCC.
At first, I was kind of snickering at the article, because I am no fan of Nokia either...

After looking at these links, to be honest, I think Cingular is making a mistake... it's a slick looking phone, with a lot of cool stuff you can see just by l...
(continues)
So NOW how long is it going to be...
OK, this bites.

While I understand the reasoning behind this, I am just very dissappointed that my wait is going to be significantly longer for one of these phones. I had posted the question in another part of the forum about looking for a time frame for these 2 phones (N80 & 6282) to be released, and now that a light appears, it is snuffed out.

Does anyone have any clue as to when the NEWER versions of these phones will be available...this year (from Cingular that is)?? This Quarter??

I understand that there is really not much RELIABLE info on this, but I was just looking for a more informed opinion of when I might be able to get my hands on one of these puppies.

In a related question, assuming no one has any kind of edu...
(continues)
Once a manufacturer makes a product, the carrier in this case Cingular has to test it to make sure there are no bugs in the phone, plus make sure it operates correctly with their network without any issues.
This maybe a silly question beside so many other important issues but.. Will this phone have the PTT compatible with Kodiak (cingular PTT)
A friend of my that works at a Cingular Store had told me that this phone will be release sometime in APRIL. He told me that Cingular will be releasing a 3 megapixel phone from Nokia. So I'm guessing that this is the only phone that would come close...
(continues)
So Video Calling or Not?
So is Cingular going to release video calling or what? i heard they werent at first, then they show this phone with a front facing camera. I wonder if they will just block the video calling feature. anyone have and inside info on this?
I expect one of two cases to happen. Either the US version will come without a front facing camera or we won't see this model for a while until Cingular launches video calling (if they do).
Why these versions got FCC approval
Someones asked this by email, but I thought other might be wondering the same thing, so I'm reposting the question and answer here with permission:
Just read your news article bout the n80 and 6282. From your article it seems Nokia is creating another version of these phones for cingular. But it would also seem as if this original version is still going to be put out by nokia, as why else would they have gone thru the process of having them fcc certified?
...because it is a many-month process that was almost certainly started by Nokia before Cingular told them to go back and add WCDMA 850.
Plus the N80 also has WCDMA 2100 and will be released overseas in that version, with WCDMA 1900 potentially for 3G roaming...
(continues)
So does that mean there's a limited supply of these that will reach the market, as they would have probably stopped production after realizing they needed to make another version?