Sony Ericsson Gets The Message
Article Comments 11
Feb 6, 2006, 11:01 AM by (staff)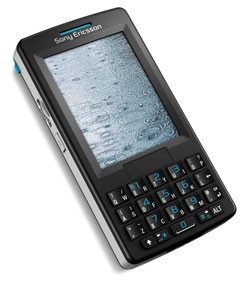 Sony Ericsson today announced a new phone designed for business messaging and email. The M600 is a slim (15 mm thick) sibling to the P990 smartphone. Like the P990 it runs UIQ 3.1 smartphone software on QVGA screen and has a jog dial with back button. However instead of the P990's traditional QWERTY keyboard, the M600 uses a hybrid keyboard like the RIM 7100 series, where each key does double duty for two letters and the center keys also do triple duty as the numeric keypad. Just as Nokia has done with the E series, the M600 supports a number of email systems including Blackberry Connect, Exchange Activesync, Seven and Visto. The M600 does not have a camera however it does feature a media player and stereo Bluetooth support. The M600 is also Sony Ericsson's first phone to use the new MemoryStick Micro format for storage. It supports GSM/GPRS 900/1800/1900 and UMTS 2100 and is due out in Europe and Asia in the second quarter.
Retro 80's design
This SE looks like an 80's calculator

I could just imagine walking into a meeting with that and getting laughed at.
What's the Point
Yet another cool phone we'll probably never see in the U.S. Attention GSM handset manufacturers: why can't you just quadband all of your phones?
I think more smartphones should be made without cameras...but maybe thats just because I'm in one of the two markets where cameraphone useage is prohibited in many workplaces (Michigan market) due to the highly sensitive information many employees cou...
(continues)
Hmm...
I think that this phone could be very good or crap, I can't wait to see where SE takes it
Keyboard
Speaking of RIM, I wonder who holds the patent to the hybrid keyboard. 😉
oi.. somewhere my t610 is rolling in its grave.. 😛