Windows 10 On Phones Can Be Extended to PCs
Article Comments 5
Apr 29, 2015, 1:08 PM by Eric M. Zeman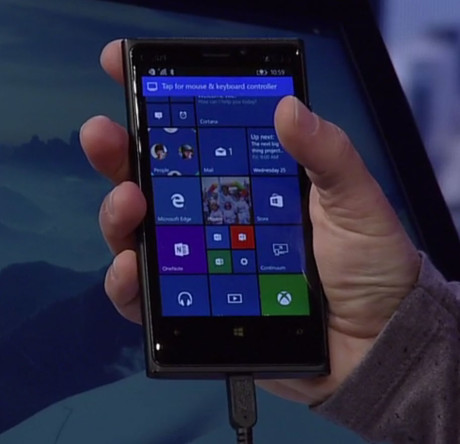 Microsoft today demonstrated how Windows 10 on phones will be able to serve as full PCs thanks to the Continuum user interface idea. Continuum helps keep the UI approximately the same as users move from PC to tablet to phone. Continuum on Windows 10 phones will let users turn their phones into full computers with apps, data, and accessories such as a keyboard and mouse. According to Microsoft's Joe Belfiore, new hardware is required to power this vision. The Windows 10 platform is expected to arrive later this year, but Microsoft has not announced new Windows Phones just yet.
source: Microsoft
New Erra of Spartanphones...Smartphones?
Now, it will be interesting to see what type of flagship devise Microsoft will create to be the example of this.

Microsoft Surface Phone?

Microsoft Spartan?

Lumia Surface Phone?

Lumia Spartan?

I don't know, I'm just being a bit excited, but I think MS should consider using the Spartan moniker as one of their flagship devices. The Surface moniker can be the more refined and elegant version. I think it would help with marketing, as long as they do not do exclusives. Exclusives are bad, for WP. Just create GSM and CDMA versions of both devices and push them to carriers to support them.
If MS plays their cards right, it will slowly kill off desktop PC's.