FCC Paves Way For Samsung 3MP Clamshell
Article Comments 14
Feb 2, 2006, 1:51 AM by (staff)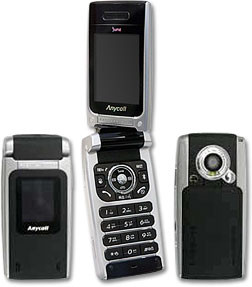 The FCC recently approved the Samsung P858, a GSM Clamshell with a 3MP CCD sensor. The P858 is a Chinese version of the P850, which was announced for Europe last year. While it is unlikely the P858 will show up on American shores, a similar P857 model is rumored for Cingular. Sometimes American versions of phones show up with less impressive specs than their European cousins, but the Nokia N80 has recently paved the way for 3 Megapixel phones with TV-out on American Networks. In addition to a high resolution camera with flash, the P858 is a 900/1800/1900 GSM/GPRS handset featuring Bluetooth, an MP3 player, MicroSD slot and TV-out. The QVGA screen also flips around in order to hold the phone horizontally and use it as a camera while closed.
source: FCC
u-g-l-i
Why Cingular....

Why ugly phones?!
3 MP camera is nice...but thats about it. I couldnt care less about the TV-out. But I agree. Ugly.
It's a poor-quality photo, but the phone itself is very stylish, IMO.
I updated the photo. It's a little clearer and you can see the inside now.
hot_md_guy said:
Why Cingular....

Why ugly phones?!
The bleeding edge isn't always pretty.
Its a very stylish phone with a 3mp camera. qvga scree. mini sd. tv out. its a samsung which is great. what is the problem??
hot_md_guy said:
Why Cingular....

Why ugly phones?!
True. You need something hot pink with sparklies.
Wow, 3MP but ...
Wow, a 3MP CCD camera?! Thats going to be totally rad uploading with this handset's GPRS capabilities.
😲