Hands On with the Huawei SnapTo
Article Comments
Apr 9, 2015, 6:50 PM by Rich Brome @rbrome
updated Apr 9, 2015, 7:07 PM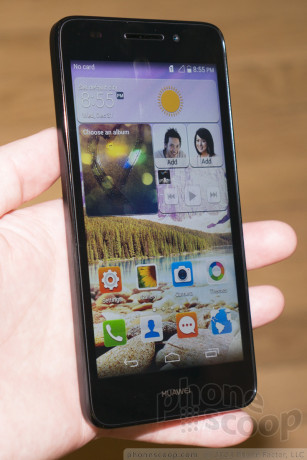 Huawei's newest phone - announced this morning - is an affordable, mass-market Android phone that Huawei is selling unlocked in the U.S. It's compatible with AT&T and T-Mobile, including 4G LTE. It has a 5-inch HD display, but its specs are otherwise fairly low-end. Its name comes from a unique button shortcut that not only launches the camera, but takes a photo, too. How does it stack up for the $180 Huawei is asking? Read on.
Advertisements article continues below...
The SnapTo has a completely generic design, with a plain, black glass front and a plastic shell that wraps around the back and sides. The back surface has a faux leather texture and the sides have a smooth matte finish. Shiny volume and lock buttons are found on the right side.
Given the plain looks and basic materials, I was pleasantly surprised with how it felt. The soft plastic shell with matte finishes feels warm and grippy. The back is tapered a bit near the sides, helping it fit the curve of your hand. Overall, it's extremely comfortable and easy to hold. It feels like a plastic phone, yet relatively thin, light, and solid. The side buttons work very well.
The back shell peels off to reveal the SIM and memory card slots, but the battery is designed to stay put. The phone is available with either a black shell or a white one, for a modest bit of variety.
The software runs well enough for average usage, but certain challenging situations do tax the Snapdragon 400 processor noticeably. For example, editing the watermark text while the camera app was showing a live viewfinder in the background slowed everything down quite a bit.
The software is Huawei's "Emotion" interface on top of Android 4.4. That comes with some nice touches, like an expanding quick-settings tool in the notification shade (a bit like Android 5.0.)
But Emotion has one big change from standard Android that will have you feeling emotions, for sure: It doesn't have an app menu. Instead, all apps live on the home screen. There's a logic to this, as it removes the redundancy of having app icons appear on both the home screen and the app menu. In that way, it simplifies Android. It also makes it work more like the iPhone. But if you're used to the standard Android way of just select shortcuts on your home screen, you'll probably be a bit frustrated with Huawei's way until you get used to it.
Emotion also includes a Simple Mode, in case you prefer your interface extra-simple. There's also the ability to customize the interface with a Theme tool. In addition to wallpapers, you can choose the lock screen style, certain animations, and even sets of app icons.
The default lock screen offers three app shortcuts.
The camera interface is delightfully straightforward, while including en expected set of features, such as HDR, panorama, and object tracking. It's well-designed and easy to use.
The one trick the SnapTo has up its sleeve is the "Ultra Snapshot" camera shortcut. You can pull the phone out of your pocket and - with the phone still asleep - press the volume-down button twice to take a photo right away. Many phones have a shortcut like this for launching the camera, but actually snapping the photo takes it one step further. Obnoxiously, it will also brag about how quickly it performed this task, each and every time. In my tests, this ranged from 2.4 - 1.7 seconds, according to the big banner on the post-shot screen. This may be the headline feature, but it isn't a super-compelling reason to buy a phone.
Overall, the SnapTo seems like a standard lower-end Android phone, with above-average ergonomics. It's not exciting, but it's probably a decent value at $180.
No messages