T-Mobile Updates Coverage Map with Customer Data
Article Comments 12
Mar 30, 2015, 8:27 AM by Eric M. Zeman @phonescooper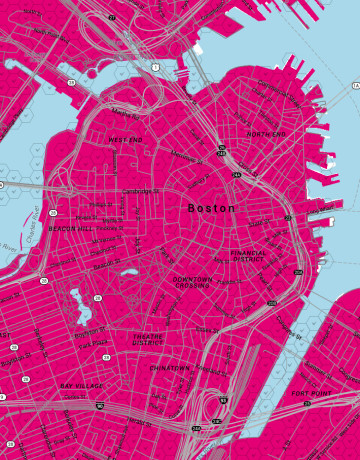 T-Mobile today unveiled a new coverage map that it claims is far more accurate than the maps offered by its competitors. T-Mobile is populating the map with data generated by its own customers. The map shows coverage that's been verified by real customers and shows exactly where LTE, 4G, and 3G coverage is available. T-Mobile is using "Verified Coverage" icons to show where the data has been provided by its customers versus third-party companies. It is using a company called Inrix to verify and backup the customer data. T-Mobile said all coverage map data is updated twice per month, based on on-going customer usage. The map also details speed test data from third-party apps so customers can see what sort of speeds to expect in any given location. The new coverage map is live on T-Mobile's web site. T-Mobile said its LTE network covers 265 million Americans. It expects to cover 300 million Americans by the end of the year.
more info at T-Mobile »
more info »
Honesty. Thank you.
I just took a quick look. This is awesome.

The others may not want to do it because they might not look so good.
I work for AT&T and we have a tool called GeoLink that does this exact thing already. Granted, it's not a tool the public can use, but it does show signal strength as reported by the devices.
At least in my area, T-Mobile/Voicestream has always had more accurate maps than others. I checked it in several areas, and the map's depiction of varied signal strength was accurate within probably 100 feet.

Others usually had better overall cover...
(continues)
If you think this is honest, I hate to tell you this is no where near the truth. I have Verizon and my friend has Tmobile, when he comes to my town he's lucky to have 1 bar of 3G but this map shows strong LTE all around my area, hell even sprint has ...
(continues)
Taken a turn toward the worst...
Some of you may remember my previous rant here, about when AT&T took this approach toward this coverage maps: https://www.phonescoop.com/articles/discuss.p hp?fm=m&ff=14549&fi=3282714

While AT&T doesn't show the "verified coverage" gimmick, their public-facing coverage maps basically resemble the same rendering engine that T-Mobile's does. It's a paint-can approach to drawing the maps.

I actually preferred T-Mobile's previous generation of coverage viewer. Now, they've basically given their maps a binary "signal vs no signal" approach, whereas on the old ones you could tell the general locations of their cell site placement and get an exact estimate of the coverage in your location.

I've checked some of these so-called "verified" s...
(continues)
No need to tell you that the key to marketing, is to get as many people to believe in something and turn it into a sale.

Since the weakest link in T-Mobile's portfolio is its network coverage, what better way to provide a skewed picture of coverag...
(continues)
Nice but........
if I had a dollar for every-time when I had T-Mobile and the network went to 2G or EDGE even when in a what was supposed to be 3G or LTE I could buy the company.
Unless this is recent it's old news. Most of the old LTE holes have been filled. I 75 from S. Florida to Bay City, MI is nearly all LTE at this point with just a couple of rural spots with Edge.