Google's Calendar App Enjoys a Useful Update
Article Comments 3
Feb 25, 2015, 7:04 PM by Eric M. Zeman @phonescooper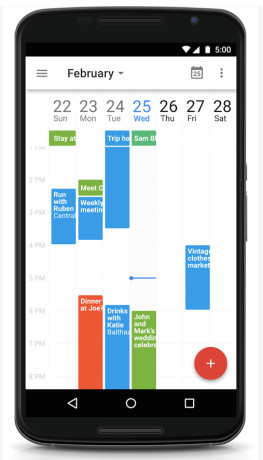 Google pushed out an update to its calendar app for Android devices today and added several features requested by users. For example, the calendar now offers a seven-day view and pinch-to-zoom. Users can now add Google Drive files directly to events and control whether or not birthdays are shown from Google+. The calendar can also show week numbers and import .ics files from within Gmail and other apps. Google Calendar for Android devices is free to download from the Google Play Store.
more info at Play Store »
more info at Google+ »
Share Feature?
Does anyone know if this app can share across phones like the Apple calendar can? My wife and I both have Android phones, and we like to share our calendars between our phones. If it does, how do you set it up to do so?
Yes. log into the Google calendar you want to share via a web browser. Next to where it says My Calendars on the left, click the little arrow to expand the menu and go into settings. From there you can share your calendars with each other by doing the...
(continues)