FCC Shows Samsung EV-DO Clamshell With Bluetooth
Article Comments 16
Jan 2, 2006, 12:59 AM by (staff)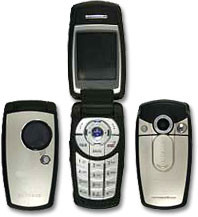 The FCC has released the full documents for another Samsung EV-DO Clamshell. The A960 features a circular OLED external display, Bluetooth, and a camera with LED flash and sliding cover. This model will be available on Sprint and is compatible with all Power Vision services including the music download store.
Samsung Phones--Sprint Priority?
It seems every time a Samsung phone gets approved by the FCC, it always seems that Sprint gets the highest priority when it comes to these phones (Sprint has the most Samsung phones of all carriers). Shouldn't this phone be approved for use with Verizon Networks as well? Sprint having highest priority for Samsung Phones is just totally no fair. 😲
What are you talking about? Verizon has just as many sprint phones as sprint does. For example, they have the a-970, sprint the 940. They just tend to have a different number...But I can almost guarantee that verizon will have most of the new powervis...
(continues)
Verizon or Sprint????
What do you think?
we stated clearly in the article that this model is meant for sprint. the manual mentions power vision and sprint many times.
why post if you are not going to even bother reading the article about what you are posting?
like the design
i like this new design....it is different. i loke the cingular LCD screen on the front of the phone. i hope they make a gsm version
This phone's outer display is UGLY.