CarPlay vs. Android Auto
Intro CarPlay Android Auto Comments 3
Feb 20, 2015, 4:40 PM by Rich Brome @rbrome
updated Feb 23, 2015, 2:15 PM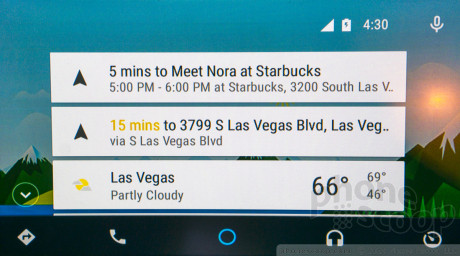 By all accounts, both Apple and Google have bold ambitions in the automotive space. But an Apple or Google Car is many years away. What's available today are CarPlay and Android Auto, both of which take a major new step in integrating your phone with your car. They're remarkably similar, both extending your phone's interface to the touch screen in your dash, but relying mostly on voice interaction for safe use while driving. In the this in-depth hands-on, we take a look at how they work, their striking similarities, and how they differ.
Advertisements article continues below...
When Apple announced CarPlay almost a year ago, it marked a bold change in direction for the relationship between phones and cars - and between the companies making those products. Google quickly followed with the very similar Android Auto.
Previously, car dashboard systems were the vehicle's nerve center, connecting to phones in limited ways, to pipe audio, import contacts, and - at the most sophisticated - integrate with streaming music apps. But cars have longer development cycles than phones, and longer lifespans, meaning your car dash system will almost always feel outdated, especially next to your phone.
CarPlay and Android Auto work the opposite way, putting your phone in charge of the touch screen in your dash. Although car makers are keen on their own dash systems, CarPlay and Android Auto are a great way to make consumers happy and keep a fresh touch interface on the car's dash, even as a car ages.
Some new cars hitting the market this year support CarPlay or Android Auto, and many will support both. Brands committed to both include Audi, Chevy, Chrysler, Dodge, Fiat, Ford, Honda, Hyundai, Jeep, Kia, Mazda, Nissan, Subaru, VW, and Volvo. At the luxury end, things are more divided. BMW, Mercedes, and Jaguar are in the CarPlay camp, while Acura has picked Android Auto. For older cars, aftermarket audio companies like Pioneer make dash units supporting both, which can be installed in many cars.
CarPlay and Android Auto are remarkably similar. While the interfaces look quite different, the features and concepts are almost exactly the same. Both have a strictly limited feature set and an emphasis on voice interaction. Both technically allow third-party apps, but currently only third-party audio services (such as Spotify and Pandora) are available.
Going down the checklist of features and attributes, it would be easy to believe that Google flat-out copied Apple's CarPlay when developing Android Auto. The features - and limitations - really are that similar.
Both Android Auto and CarPlay require that you connect your phone to the car via a USB cable. That's sensible, as most people like to charge their phone in their car, and things like voice control and navigation are notorious battery hogs. But if wireless charging ever takes off, it would make sense for CarPlay and Android Auto to support wireless connections as well. There are reports that Apple is already working on an update to iOS that supports CarPlay over Bluetooth.
There's a third alternative to CarPlay and Android Auto, called MirrorLink. It could work with any phone in theory, but as it's not supported by Apple, it's effectively limited to Android, where manufacturers like Samsung and HTC have added it to some of their phones. Pioneer also supports it in many of its aftermarket dash units.
MirrorLink is just different and open enough to potentially be really exciting. It had some industry support early on, but unfortunately, that has quickly been drowned out in the face of heavyweights CarPlay and Android Auto.
MirrorLink is much more open than the big two, providing only a very loose framework for apps, not a complete car solution. There is no standard MirrorLink Phone app, Maps app, or Music app, for example. MirrorLink does have safety standards to prevent apps that distract drivers too much, but otherwise it seems very open to creative types of apps. It supports a few really interesting features, such as connections over Wi-Fi instead of USB, and the ability for apps to pull in certain data from the car systems (although it's not clear any cars will support this feature in a meaningful way.)
I want to see MirrorLink succeed, but find it difficult to be optimistic about its chances.
Saw both demos at CES
I had both demos at Pioneer for Car Play and Android Auto. They BOTH have a LONG way to go. I can do more with my crappy AppRadio from Pioneer and that is laced with bugs and issues. One day it will get there but right now it's really limited. The only issue is, it will be another Apple/Google big brother data mining scheme like in your current smartphone logging where you are and everything you have searched for (but that's another topic altogether).
How will it work without phone
I wonder how these systems will work without a phone? Assuming you don't have a smartphone, or you forgot your phone at home? So no more GPS? Will the interface go back to the 1990 era?
WOW
More articles like this please. This is one of the best articles I have read on this site in a long time. Thanks for this one.