Holiday Gift Guide 2014
Intro Postpaid Prepaid Comments
Nov 26, 2014, 12:51 PM by Eric M. Zeman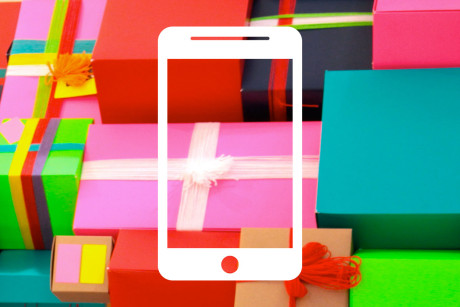 As shopping for the holidays gets underway this week, retailers will be serving up sales and deals galore. In order to help you on your journey to mobile gifting nirvana, Phone Scoop presents its annual Holiday Gift Guide. You need only peruse the following pages to discover the best possible phone for everyone on your list.
Once again we're poised at the start of the holiday shopping season. The past year has been a whirlwind in many ways, and the annual time of gift giving is here. Mobile phones continue to evolve each year, but the rate of evolution has perhaps slowed somewhat. We saw plenty of exciting handsets throughout 2014, and competition is as fierce as ever. Phone makers rolled out some gimmicks, to be sure, but also raised the overall quality of their offerings. With so many handsets from which to choose, finding the perfect one for that special someone is trickier than ever.
Nearly all phones sold by carriers are smartphones; few feature phones and messaging devices remain available. Smartphones range from barely functional entry-level models to (almost) PC-class thinking machines. Feature phones are available for as little as $10 and as some smartphones cost as much as $1,000. How much you want to spend — and the manner in which you spend it — is almost entirely up to you.
This year we've organized our Gift Guide using carriers and their respective rosters as a starting point, rather than as a hard-and-fast rulebook. Most handsets offer a given set of basic communication and media apps, as well as a base level of voice, network and battery performance. We weighed not only our own opinions, but those of consumers, too. As always, pricing was a top consideration.
We've broken the entire article into two major groupings: postpaid and prepaid. We think the prepaid market has grown a lot and makes sense for many of our readers. Prepaid is especially relevant for gifting, as it's easier to give a phone as a gift without a contract involved. Each of those two larger sections has a smattering of subsections to help narrow things down.
Once the holidays are over (or even before!), please be sure to erase your old phone and recycle it. Don't stuff it into some dark hole in your house — take it to a wireless retailer or other electronics store and trade in that old-and-busted gear. Even better, take advantage of carrier and retailer trade-in deals and score some cash for your new phone! Er, we mean your friend's new phone!
When we say "postpaid" we mean one of two things: the phone requires owners to pay an upfront fee and sign a contract, or it requires owners to make monthly payments. In general, we kept prices between $100 and $200 for on-contract phones or between $20 and $35 for those requiring monthly payments. It's important to note that there are fewer unique phones sold by the four largest network operators these days. In many cases, they all offer the same phones from the same companies. The trade-off in the (slightly) reduced choice is that these global flagship phones are the best of the best and may not be available to prepaid customers.
When we say "prepaid" we mean phones that require a monthly payment in advance of service, and no contract. The following phones are available on plans that run month-to-month, not for 12 or 24 months. You generally have to pay for the device in full first, but you are free to cancel your service at any time. The phone selection at prepaid carriers is generally smaller than that of the Big Four, and are often composed of last year's phones or equivalent.
No messages