Nokia Reveals New 3G Phone for US
Article Comments 12
Dec 1, 2005, 9:59 AM by (staff)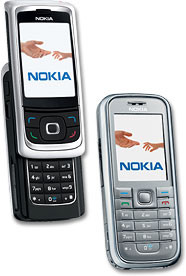 Nokia today announced the 6282, a new slide-style 3G phone for the U.S. The 6282 is based on the 6280 for Europe and Asia, but supporting U.S. frequency bands, including WCDMA 1900 and GSM 850. The 6282 also lacks a 2nd camera for video calling, and has a 1 megapixel camera instead of 2 megapixel. Other features include EDGE, miniSD memory card slot, music player, stereo FM radio, and Bluetooth. The 6282 is expected to be available in the 1st quarter of 2006. Separately, Nokia announced the 6233 and 6234, two small bar-style 3G phones for Europe and Asia. Both feature WCDMA 2100, 2 megapixel camera, music player, microSD memory card slot, and EDGE. The 6234 is customized to be exclusive for Vodafone.
cingular + Nokia = crappy phones and service!
Kudos to Cingular for once again dumbing down the Nokia product line to suit the taste of stupid Americans.
Alas, we are just to backward to enjoy the complexity of a 2 megapixel camera or video calling camera.
As the owner of a lobotomized 6682 (no push to talk, no 3g, no video camera for calls a la the Euro-spec 6680), I'm glad to see other Americas will no doubt be relieved to buy overpriced service plans and over-sized hardware with few of the supporting services and features that make life so complicated. A job well done folks!
From a Marketing standpoint, it makes sense. Cingular will be carrying the N80. They need a lower cost solutioon for those that want an N80 but cannot afford it...
if the 6282 had the N80's camera and WiFi...
only 1 M.P.?
when Rich first showed this phone it was 2 MegaPixels, why did that get changed?
The 6280 is 2 megapixels. The 6282 is 1 megapixel. It was never "changed".

It's no secret this is header for Cingular, and it's also no secret that they are also getting the N80.

My guess is that this was made 1 megapixel instead of 2 to make it...
(continues)
i'm not impressed
i'm not impressed. no wonder nokia is losing market share to motorola with shiit boring design like this.

i used to love nokia. but no more.

i'll stick with my treo 650.
actually, i think it's a cool design. I think Nokia is finally trying to produce more than candy bar phones - in a big way. Now they have sliders like this and the N80 (which is an even cooler design), flips like the n71 😉 , all the while still...
(continues)
when will they ever materialize?
👿

I waited for the 6270... Q4 2005 is gone almost, no phone? All thise phones come out but none show up in the markets. I think they just put out computers for the hell of it, too make market share, but in reality they do not have nothing....