Skype Debuts Qik Video Messaging App
Article Comments 3
Oct 14, 2014, 8:24 AM by Eric M. Zeman
updated Oct 14, 2014, 8:42 AM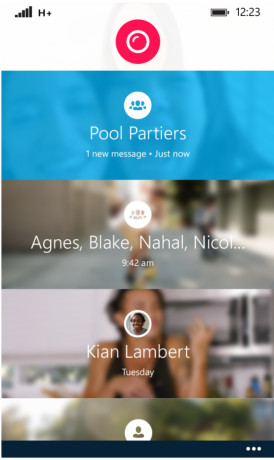 Skype today announced a new video messaging app called Qik. The service, explains Skype, is to give smartphone users a fun way to interact with others and maintain conversations that have more personality than standard text messages or video calls. Qik users can record and send up to 42 seconds of video to recipients who can then respond with video messages of their own. Skype says videos remain live for just two weeks, and can be erased by the creator at any time. Qik also lets users prerecord five-second Qik Fliks, which Qik describes as canned video responses to use when there's no time to record a new video. Qik used to exist as a stand-alone messaging service, but was purchased by Skype in 2011 and later shuttered entirely. Skype Qik is available to Android, iOS, and Windows Phone. The app is free to download from each platform's respective app store.
MY GRANDXMAX!!!!!
😎 I had a flip phone so wanted a coolness phablet went into cricket Jose told me u will not be disapointed WOW!!!!! Purchased NHL gamecenter hockey nutt!!!!!!!!! Sweet view!!! This is a great phone!!!! Yes I have bitten the apple back in 2012 I just sold my iPad this is no where near an apple but its great in its service trust me!!!!!!! The sound is damn!!!!!!!!!
What on Earth are you taking about?