Hands On with the HTC Desire EYE
Article Comments 1
Oct 8, 2014, 3:45 PM by Rich Brome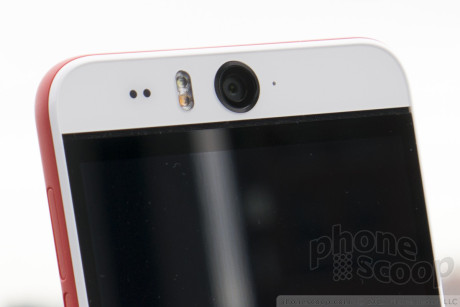 HTC today announced the Desire EYE. Staring you in the face is a giant 13-megapixel selfie camera, but the phone is interesting for a few other reasons. It's an unusually high-end phone for the Desire series, and also a big push into the U.S. market for the Desire brand. It's also waterproof and sports an evolution of HTC's design language. It's a major phone for the company. We took it for a spin; read on for our first impressions.
First, the cameras: the front and back cameras are both 13-megapixel shooters with the same fancy warm-tone dual-LED flash as on the One (M8). They're the same sensors as the newest HTC Butterfly, a high-end phone the company makes for Japan. So it's a decent sensor.
Having the huge front lens centered where you'd normally find the speaker has a couple of curious effects on the design. First, it means the speaker has to go somewhere else. Sort of. HTC's design solution here is actually rather clever: they've put a thin slot between the top part of the phone and the top of the display. It blends into the design beautifully. A matching slot near the bottom allows for the other speaker of HTC's excellent BoomSound stereo speakers.
Second, the lens is exactly where you'd normally put your finger to drag down the notification shade. This means you're almost certainly going to get fingerprints on that lens and need to clean it often. Also, I initially worried that the edge of the display glass would be sharp and make the swipe-down notifications uncomfortable. Fortunately, that's not the case. The edge must be softened a bit at the factory, because it didn't feel sharp to me.
The rest of the body is excellent. It looks nice and feels even better. They've gone for a soft plastic with a matte finish that feels great. The two colors of plastic are molded together into one unibody shell with no seam whatsoever. The phone is waterproof, with sealed buttons and card slots. Dark magic (or, more likely, a nano-particle coating) keeps the speakers, audio jack, and micro-USB jack dry, even though they're fully exposed. There's even (gasp!) a dedicated camera button. In all, it's a great bit of hardware.
It's big, though. It's bigger than the new iPhone 6, that's for sure. This is almost in phablet territory, so if a lot of phones these days are too big for you, that could be an issue here. At least it's respectably thin and light.
The guts aren't bad, either. We've got a full-HD display, Snapdragon 801 processor, and memory card slot. That kind of display and processor are typically reserved for flagship One series phone, not a Desire. So this is definitely something new for HTC.
HTC's new "EYE Experience" software is a new version of HTC's camera app that beefs up the selfie experience quite a bit. It has gimmicks like a Photo Booth mode and common features like dual-camera mode and voice control. But there are thoughtful innovations like an auto-shutter that will guess when you've finished adjusting your pose (when you hold still) and snap the photo automatically. It will also trigger using smile detection.
dual-cam selfie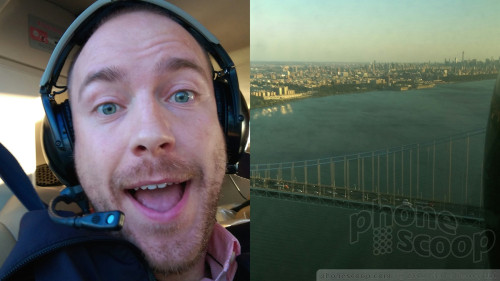 dual-cam selfie
Another great feature is sequential dual-camera mode that lets you snap yourself and the scene in front of you separately. Other dual-camera modes require that you line up yourself, the phone, and the scene in perfect alignment, a tricky or even impossible maneuver if you're in a vehicle or other tight environs. Framing yourself and then the scene makes it vastly easier to compose a "postcard" with both your face and the scene.
(The "EYE Experience" camera software will come to other HTC phones - including older models - via software update.)
The camera software is in general is extremely full-featured and reasonably easy to use.
This may be a camera-oriented phone, but it's still a Desire. If you're expecting iPhone camera quality, you've set your expectations too high. The cameras are decent, but don't expect to win awards with the quality. For example, selfies in bright sun often have a jaundiced yellow skin tone around the brightest parts of the face. That's not exactly flattering. It also should be fixable with better software driving the camera. HTC really needs to invest a bit more in its camera drivers and image processing algorithms if they want to be known for their camera experience, (and that applies to the One series, too.)
Nevertheless, what you do get with this unique hardware and software is a selfie experience that's definitely a step above any other phone on the market.
Even if you don't care about selfies, this looks promising as a darn nice phone in terms of both design and specs. At the right price, it could be a good seller. Look for it on AT&T soon.
Too Big!
I wish they'd make better, smaller phones instead