HTC RE is an Action Cam for Everyone
Article Comments 5
Oct 8, 2014, 3:36 PM by Rich Brome @rbrome
updated Oct 8, 2014, 3:45 PM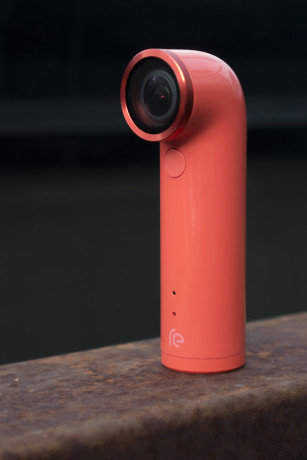 HTC today announce the RE Camera, a small standalone camera device that connects to any Android or iOS device. Roughly the size and shape of an inhaler, the waterproof body sports an ultra-simple interface with a capture button you press to snap a still, and hold down to record video. It turns on automatically when you touch the body. The 16-megapixel Sony Exmor sensor is paired with an ultra-wide 146-degree lens that captures practically everything in front of it. It also records 1080p HD video, optionally in slow motion via a small second button. It charges via micro-USB and supports USB mass storage for easy file transfer. It also has a microSD slot and comes with an 8 GB memory card. It mounts to any standard camera tripod. It pairs with the smartphone app via Wi-Fi Direct. The app can browse and/or download photos and videos. It's also used to configure various settings, can be used as a remote live viewfinder, and controls a highly configurable time-lapse mode. It also includes one-touch correction for the "fisheye effect" from the wide-angle lens. Available accessories include a bike mount, lanyard, and deep underwater case. A future update will enable live broadcasting via YouTube. Available colors include white, teal, navy, and coral. It will go on sale at Best Buy by the end of October for $199.
source: HTC
Advertisements article continues below...
Not sure what to think.
It seems like a really slick device, but also it's kind of redundant given that most phones already take stunning photos. I'd be interested to see if this catches on.
You cant really leave your phone in one spot all day to take a time lapse. Also this looks like you can quickly pull it out of your pocket and snap a picture within 2 seconds where with even the moto x it might take a minimum of 8 seconds to get the ...
(continues)