Apple Reveals the Apple Watch
Article Comments 21
Sep 9, 2014, 1:01 PM by Eric M. Zeman
updated Sep 9, 2014, 1:47 PM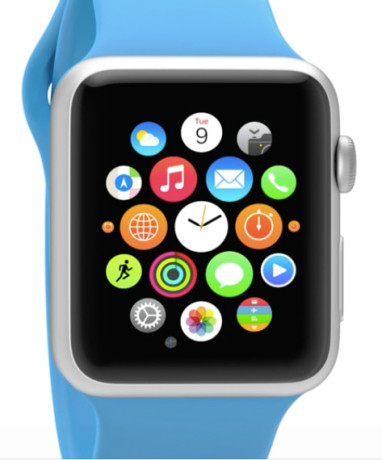 Apple today announced the Apple Watch, a smart watch marking its entry into the wearables market. The device has an overall square shape, but features gently rounded side edges. The Apple Watch will be available in solver and gold, and will be compatible with a number of different straps that slide in and out of a unique slot. Apple calls it "the most personal device we've ever created." Apple says it is synced with universal time standards and is used as a personal health and fitness tracker.,thanks to a trio of sensors placed on the back. Apple worked hard to redefine the user interface, which is entirely different from that of iOS. It features a physical dial on the side that is used to zoom in and out of whatever is one the screen. A press of the dial takes you back to the home screen. The Apple Watch has a sapphire touch screen that displays notifications. Watches can be aware of one another and send short messages, and the device can accept voice dictation as well. It charges via mag-safe magnetic induction. The charger attaches to the back of the Watch. There are two different sizes to accommodate a range of wrist sizes. The UI allows people to alter the expression of emoji, draw little figures, choose between predetermined answers to messages, and even view photos that have been favorited in iCloud. The device will be able to run third-party apps, and Apple released WatchKit in association with the device so developers can get to work coding. The device will be available in early 2015 with a price point starting at $349.
source: Apple
wow for all you skeptics I think you should see this
Ever since Steve Jobs died Apple hasn't been able to get the hype machine going properly...


The tag line is lame even for Apple....under Steve Jobs it would have been

Every watch tells time, but only one can alter the very fabric of the space ...
(continues)
So I just don't see it WiGuy....simply taking a product, throwing huge images up in ultra HD resolution, but then putting small blurbs about capabilities it has that have been out for 1 1/2 - 2 years already....

Either this is a troll....or you hav...
(continues)
Colors: Solver
"The Apple Watch will be available in solver and gold."

I wonder how it looks in Solver.
A hurried addition to the release event?
Seems very uncharacteristic of Apple to talk about a product that won't be available until 'early 2015' and then to do so in so much detail. It's seemingly a hasty attempt to keep what could be Apple users from defecting to a Moto 360 or another Android wear device.

Time will tell on the user interface (it appears to have some interesting methods of bridging the human:machine interface, if you happen to be right-handed/wear your watch on your left hand). The aesthetics are atrocious, however. I cannot decide if this is the most expensive Swatch watch ever or a reincarnation of my 1980's vintage Casio calculator watch. I guess I'm not the target audience. Perhaps they will correct their sins by making the watch category an accessory i...
(continues)
This is very uncharacteristic for Apple. I mean they didn't announce the original iPhone 6 months before release or anything like that.
Vaporware?
Will this thing ever actually be released? Sources say even an early 2015 release date seems iffy....

The one thing Apple used to be good at was announcing a product with a specific date for release.

These kinds of 'well, this will be released eventually, I promise' announcements are so....

Microsoft....

Apple is really going downhill, ain't it?
Yes..they just spent over an hour and a half talking about it. Of course they're going to release it. It's slated for early 2015 as stated by Steve Cook himself and it being worth the wait.

Apple did this recently with the Mac Pro as well announci...
(continues)
ugly...
i expected more from apple but motorola took the crown this year
the one in stainless steel isnt horrible, still the moto 360 looks a lot better tho
I wouldn't call it "ugly". More like goofy or childish, which I am sometimes OK with. But it looks like a $10 watch.
Early 2015?
Poor marketing by Apple by missing Black Friday. This ugly POS would've made a great stocking stuffer. I'm surprised at Apple actually.
Id like to see
the new "solver" color