The Motorola Phones That Never Were
Article Comments 3
Sep 6, 2014, 8:13 AM by Rich Brome @rbrome
updated Sep 8, 2014, 12:44 PM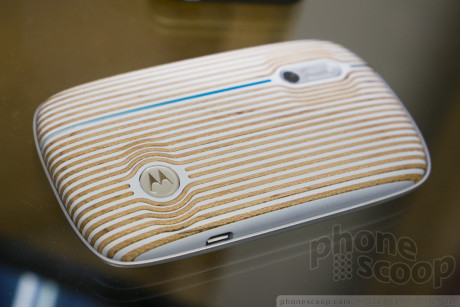 In a rare peek behind the curtain, Motorola reveals early prototypes of its phones, as well as phones that never saw the light of day. Explore a full gallery of prototype Motorola phones and watches, including a RAZR flip-phone for Android, phones made of cork, and early versions of the Moto 360 watch.
Advertisements article continues below...
Motorola has a long history of creative phone designs. From the PEBL to the Aura, plenty of unusual designs have come out of Chicago. But for every RAZR, there are dozen other designs that never leave the lab. Which is why we were pretty stoked to see inside that lab, so we can show you some of the wild designs that proved infeasible, suffered form poor timing, or were simply too far "out there".
2007 was a crazy year in the phone world. Motorola was still riding the RAZR franchise by launching the RAZR2 V9, and Google was hard at work creating the first version of Android. Early versions of Android didn't require a touch screen; the focus was much more on having a physical text keyboard of some kind, since the touch-screen keyboards up until that point had proven terrible. Apparently Motorola wanted to be part of the first Android wave and use the RAZR line to do it. So, behold: a design for a RAZR flip phone with a 20-key text keypad running Android: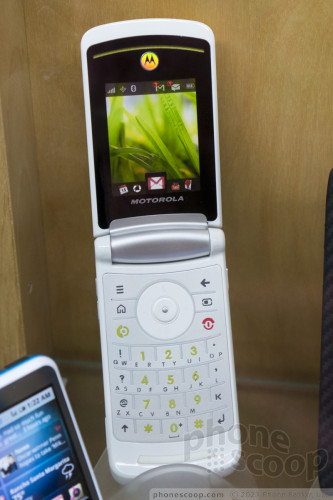 Note the glossy white plastic and Android-green button text. (Not to mention the screen icons and standard Home, Menu, and Back buttons.) It really looks like this was intended be an iconic launch device for the non-touch variant of the first version of Android. Was this to be the RAZR3, a flip smartphone? We may never know.
This might have been a hit were it not for one other thing that happened in 2007: the launch of the first iPhone. That of course changed everything. Google quickly revamped Android to focus on the touch screen experience, and this poor thing must have been abandoned. Motorola scrambled to regroup. They missed the first wave, but caught up in 2009 with their original Droid, the first Android 2.0 device and a major hit.
I would have thought this next... thing was an alien egg were it not for the Motorola logo. It may have been an actual proposed phone, or perhaps just a design study. Regardless, it's pretty out there: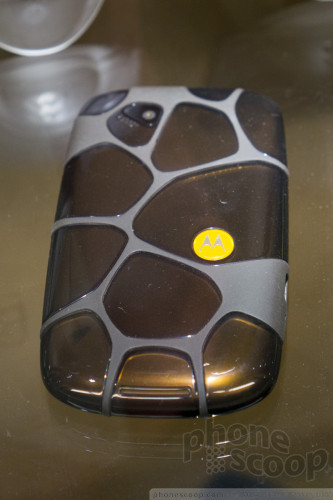 Motorola has been toying with the idea of using real wood on phones since well before the Moto X. Here's a wood PEBL, for example: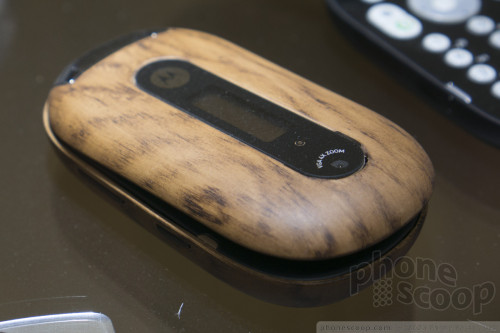 Here's another phone with thin strips of real wood worked into the design in a wild pattern: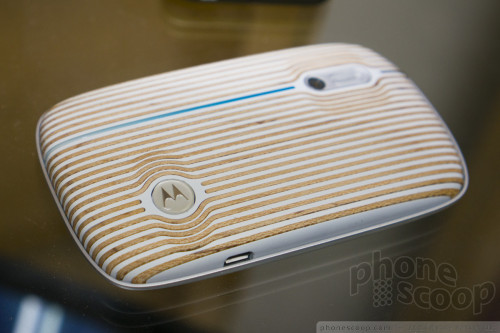 This looks like a low-end Android phone, but the design is pretty sharp. I don't think anyone would complain if the next Moto E looked like this: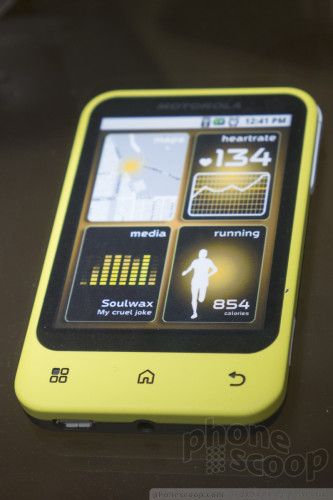 This phone looks like something a fifth-grader sketched out as a cool phone... in 2005. Let's all thank the anonymous executive that killed this beast: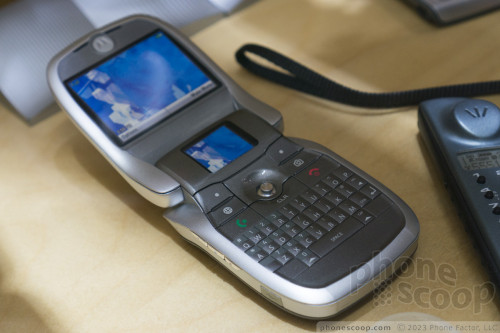 This looks completely impractical, but also kind of slick. It would have made a great movie prop ten years ago: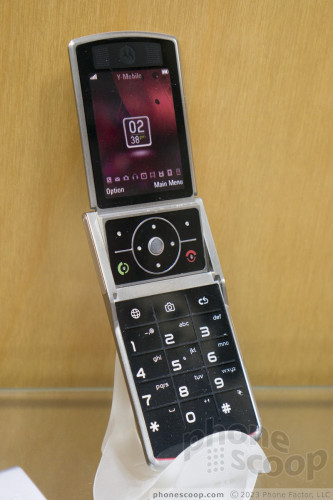 The Charm and Flipout were genuinely innovative Android form factors, but there were other variations before the final design. Here are a few:
The first-generation Moto X went through a few iterations before the version that shipped. From these prototypes, you can tell that Motorola wanted the custom material to wrap around the sides of the phone. I'm not surprised that proved impractical, but it would have been mighty slick. It also looks like the dimpled M logo below the camera was a late addition; the logo may have started out embossed and at the bottom of the back.
The cork material would have been neat, although I can't imagine typical wear and tear being kind to it. The translucent materials with true 3D textures are a completely unique look for a phone. I personally dig the spun fiberglass / Tyvek look.
The Moto 360 watch apparently started out square. Then they tried a stainless steel back, followed by plastic with a distinct window for the heart-rate monitor, including a carbon-fiber texture on one variant. The prototype closest to the final version has a slightly different pattern on the back that actually hides the heart rate sensor better than the pattern on the shipping version. (Not that you look at that part of the watch often.)
Goodbye to the last real phone design company....
Motorola is (was) the only manufacturer that really designs new cutting edge phones, every other manufacturer designs me-too slabs in one color or another. Too bad, of course they didn't all fly but some did, thats the risk you take pushing the envelope but then they had to rest on their laurels after the RAZR.

They might still be around if they kept on engineering threir own stuff instead of trying to me-too everybody. They had fabs, made chips, designed cool stuff... now they are broken, splintered off and sold for scrap like the dies and presses in a old US factory. Globalization for the win.
Motorola sholes
I have a Motorola phone that when turns on it says Motorola sholes, guess that's name before they decided on droid