Moto G Goes Full-Size
Article Comments 6
Sep 5, 2014, 1:00 AM by Rich Brome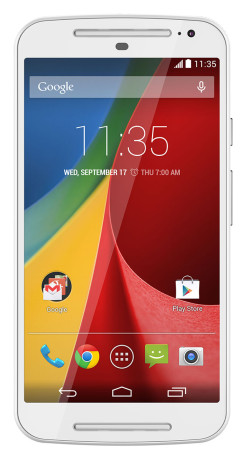 Motorola today announced a revamped Moto G with a larger 5-inch screen, memory card slot, and dual front speakers. The 2nd-generation Moto G also upgrades the main camera to 8-megapixel and the selfie camera to 2-megapixel. The new Moto G retains the 3G-only radio and same Snapdragon 400 1.2 GHz processor. The phone comes with either 8 or 16 GB of internal memory and either black or white. The rear cover snaps off and eight color options are available as accessories, as well as covers with a flip-over screen cover that automatically locks and unlocks the screen. The Moto G goes on sale today for $180 unlocked.
source: Motorola
Stop making phones bigger, you jerks!
Seriously, they just keep getting bigger, you can't operate them with one hand or fit them in pockets.
They are making them bigger because people want them to be bigger. If you are going to be doing serious web surfing, shopping, playing games, apps with a phone you want the screen size to be big enough to actually see what you're doing.
price
That's a really good price if you ask me