Sprint Formally Debuts Sharp Aquos Crystal
Article Comments 11
Aug 19, 2014, 9:21 AM by Eric M. Zeman
updated Aug 19, 2014, 1:41 PM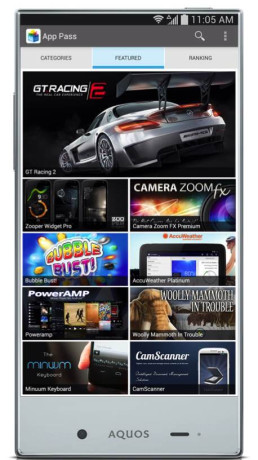 Sprint today announced the Sharp Aquos Crystal, a mid-range handset that it will sell later this year. The Sharp Aquos features a nearly bezel-less design, with narrow edges running along the top and sides of the phone. The screen measures 5 inches and offers 720p HD resolution. The device offers a handful of software features developed by Sharp, including Clip Now, which takes screen shots with a swipe and makes them easily sharable via link. Speaktoit Assistant is a natural language assistant that can perform a number of tasks, such as answer questions, open apps, place calls, and send texts. The device comes with Harman Kardon Clari-Fi and LiveStage audio technologies for improved music reproduction, and Direct Wave Receiver technology, which uses the display panel to create sound for phone calls. The device runs Android 4.4.2 KitKat and includes the usual suite of Google services, in addition to OfficeSuite for editing Microsoft documents. Other hardware features include a 1.2GHz quad-core Snapdragon 400 processor with 1.5GB of RAM and 8GB of internal storage. The Aquos supports microSD cards up to 128GB. The camera captures 8-megapixel still images and 1080p HD video. It also has a 1.2-megapixel camera for selfies. The Aquos will cost $240 at full retail, or $0 down and 24 monthly payments of $10 with Sprint. Sprint subsidiaries Boost Mobile and Virgin Mobile USA will also sell the device at the price of $150. Virgin and Boost do not require contracts.
price
is a mid range phone but it costs more than a flagship phone...

even the LG G3 sells at bestbuy for $100...

and this one for $239??

come on
You kidding, right? this phone is being promoted as $239 retail price, whereas the LG G3 you're talking about sells for $100 with a 2yr contract, or $100 plus monthly payments (not sure because I havent seen the BB promotion). If you really believe th...
(continues)
$240 is the full retail. Oddly, Boost and Virgin are selling it for $150.