Samsung Refreshes Its Design Language with Galaxy Alpha
Article Comments 22
Aug 13, 2014, 7:23 AM by Eric M. Zeman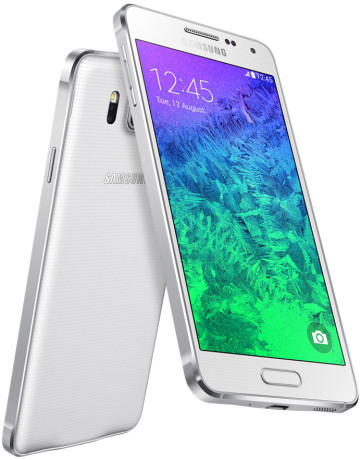 Samsung today announced the Galaxy Alpha, an Android smartphone that breaks ties with Samsung's plastic past and introduces metal. The Galaxy Alpha has a metallic frame forming the four outer edges of the device, which has a glass front and textured plastic back panel. At 6.7mm thick, the Alpha is one of Samsung's thinnest phones. The Alpha features a 4.7-inch 720p display and is powered by an octa-core processor (four 1.8GHz cores and four 1.3GHz cores). It includes 2GB of RAM, 32GB of internal storage, but does not support microSD cards. The Alpha has a 12-megapixel main camera and 2.1-megapixel user-facing camera along with a wide number of Samsung's camera tools, such as Shot & More, Selective Focus, and Beauty Face. It can shoot 4K (Ultra HD) video. Connectivity functions include Wi-Fi, Bluetooth 4.0, GPS, and NFC. The Alpha also offers Ultra Power Savings Mode, Download Booster, Quick Connect, and Private Mode, which can be secured with a fingerprint thanks to the fingerprint scanner built into the home button. Samsung said the Galaxy Alpha will ship beginning in September. It will be sold in a variety of colors. Samsung did not detail which markets will see the Alpha first.
720p display?
Way to swing for the fences with this, Samsung.
Its still better than the screen on the iPhone. So, is an HD screen not important, or are you admitting Apple cheaped out on a part?
People don't need a thinner phone. They need better battery life
People don't need a thinner phone. They need better battery life. Seriously, who the f cares how thin their phone is?

I would love to see someone perform a test to see if people really notice a 1mm, 2mm, or even 5mm difference in thickness.

Know what people do notice? The bulk of keeping a charger with them. They notice ensuring that they are within 3' of an outlet when they leave home. They notice that morning when they realized they forgot to put their phone on the charger the night before. THAT'S the kind of stuff they notice, but it doesn't generate the OOooohs and AAAAAaaahs in tech demos when the slobbering tech media reviews the prototype..

When manufacturers improve the performance of a battery they shrink the thing so...
(continues)
I agree, the ridiculous thing is that if took today's battery and put it into a phone as thick as what was on the market as recently as 2009, we'd have smartphones that could go 2-3 days between charges, even with heavy usage, rather than charging 2-3...
(continues)
It's like an improved iPhone
No microSD card support? I'm disappointed, Samsung.
Well, at least it has a removable battery, right?