Review: Kyocera Brigadier for Verizon Wireless
Article Comments 5
Aug 7, 2014, 2:00 PM by Eric M. Zeman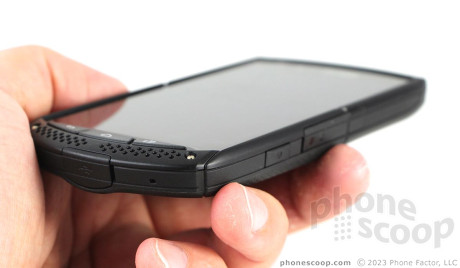 The Kyocera Brigadier packs a punch. This rugged Android handset for Verizon Wireless is one of the toughest available in Big Red's lineup. Here is Phone Scoop's full report.
Advertisements article continues below...
Form
Is It Your Type?
The Kyocera Brigadier is one tough mother of a phone. If you're looking for a delicate smartphone, the Brigadier is not for you. The Brigadier is for those who want or need a device that kicks butt and takes names at the same time. It is a hearty smartphone for the adventurer and thrill-seeker.
Body
The Brigadier is fairly typical in its design as far as rugged phones go. It is chunky, blunt, heavy, and covered in a mashup of lines, surfaces, and textures. The Brigadier is among the first to use real sapphire over the display, which improves the phone's toughness factor significantly.
It would seem Kyocera designed the Brigadier with Verizon in mind from the get-go. There are subtle "Vs" built into the shape and various surfaces of the phone. One might say it looks more like Casio's G'zOne hardware than Kyocera's other handsets. Kyocera seems to be steppin on Casio's hallowed ground a bit here. The phone is a black slab, but one with lots of angles to break up the typical rectangular shape. It's no follower, and sets forth with its own identity. It clearly comes from Kyocera's family tree (at least as far as my eyes are concerned), but it manages to eschew tired design tropes in order to meet its usability and toughness needs.
The weight of the Brigadier tells me it's strong, but it's not a phone you ever forget is in your hand or pocket. I can just barely wrap my hands around the wide Brigadier. The thickness doesn't help it slip into pockets, where I found I more often had to give it good shove rather than drop it in. The materials are typical for a rugged phone. They feel tough, but not premium. We're talking heavy-duty plastics here, not metal and glass. The lower half of the phone has a textured surface for added grip.
The Brigadier's front face is a busy place. The screen is recessed deeply, with a pronounced rim surrounding it. This helps to protect the sapphire from damage when the phone is placed screen down. I found the rim a bit annoying because it is so thick. There are four exposed screws on the front that give the Brigadier an industrial look. The phone has three physical buttons below the display for controlling the Android operating system. The buttons are easy to find bare-handed, but not so easy if you're wearing gloves. The travel and feedback is good, though. A grill for the speakerphone runs along the bottom of the front surface.
There are three buttons built into the left edge of the phone. There are two separate buttons to control volume (rather than a single toggle). They are positioned near the top, but are rather small. The travel and feedback is good. There's also a massive user-assignable action key. Kyocera told us that the Brigadier will receive PTT in a future update, so the button can be used for that if you want. For now, you can program this button as a shortcut to open a wide array of other apps on the phone. The button is very easy to find and has excellent travel and feedback.
The Brigadier has a dedicated camera button on the right edge. It a bit small and could be easier to find, but travel and feedback are good. A large hatch on the right side protects the SIM card and memory card slots. It requires a bit of effort to peel back, but that's OK. You want this to stay firmly shut most of the time.
The Brigadier has two other hatches, one on top and another on the bottom. The top hatch protects the stereo headphone jack. I didn't have any trouble with it. It is joined on top by two buttons, one on either side. One initiates the speakerphone and the other is the lock/power button. Both buttons have decent profiles and good action. The hatch on the bottom covers the micro-USB charge port.
The hatches are important, as they help keep the Brigadier resistant to water and dust. I dunked the Brigadier in a host of household liquids, held it under running water, let it sit in a bucket for a while and otherwise introduced it to dirt and liquid. It's still working, but I noticed that water vapor occasionally made its way into the phone and clouded up the camera lens. Kyocera assures us this is not normal behavior and likely a problem limited to our review unit. I was able to get the water vapor to vanish by holding the phone in direct sunlight for a few minutes, but it returned often. I wouldn't worry about this, though, as it is surely an issue specific to our device. As for the Brigadier's toughness rating, yeah, it can take a bruising. I threw it, kicked it, dropped it, hit it, and otherwise abused it. It suffered no injuries.
One thing the Brigadier doesn't have is a removable battery. The phone is locked up tight, and doesn't provide access to the internals.
Performance
Screen
The Brigadier is unique in that it is among the first to use sapphire to protect the display. Sapphire is far more resistant to scratching and breakage than even Corning's Gorilla Glass. I took a sharp knife the screen and couldn't make a mark in it. I scratched it with keys, knives, nails, screws, basically anything sharp and pointy I could get my hands on. Nothing left even the slightest mark. Kyocera claims you can throw this in the same pocket with your keys without worry. From our tests, that seems accurate. I smacked the screen with a hammer several times, and threw it down on concrete a lot. The screen didn't break. It's some tough stuff. Does it impact the underlying display?
The Brigadier's screen measures 4.5 inches across the diagonal and it packs 1280 x 720 pixels. The 720p HD resolution works well with this size screen. The pixel density is good enough that most people won't see pixels unless they hold the phone right up to their eyes. Most on-screen elements look sharp and clean. Colors appear a bit muted to my eyes; I wish they were richer. The screen offers plenty of brightness. I was able to see the screen clearly both inside and out, even when wet. Viewing angles are also quite good. It's a fine screen, and the extra protection provided by the sapphire is an added bonus.
Signal
The term "signal hound" is an apt descriptor when discussing the Brigadier's performance on Verizon's LTE 4G network. Seriously, it grabbed hold of Verizon's network and held on for dear life. It never let go. If the Brigadier was a bull rider, it would have won the rodeo. The Brigadier delivered strong performance across signal strengths. It always connected calls on the first dial and never dropped any. Data speeds were solid across the board, and only dipped a little under the weakest network conditions. It delivers excellent network performance.
Sound
Like many of Kyocera's handsets, the Brigadier uses the company's Sonic Smart Receiver for phone calls. The Smart Sonic Receiver uses vibrations rather than a standard earpiece to deliver voices directly to your head. Phone calls sound good, but fall short of excellent. Quality was solid most of the time, but I've heard clearer calls on other devices. In-call volume was quite good with the phone pressed to your head, but again not the loudest I've heard. I had no trouble hearing calls in all but the loudest environments. Only construction equipment and screaming infants overpowered the Smart Sonic Receiver. It worked fairly well when I held the device up to a helmet, but it wasn't as loud as other Kyocera devices I've tested in this respect. Calls sent to the speakerphone were very good. Quality was comparable to Smart Sonic Receiver and volume was excellent. You can use the Brigadier's speakerphone at home, your office, in the car, wherever you need — and you should be able to hear it just fine. When I called others though the Brigadier, they were impressed with the quality of my voice.
Ringers and alert tones are extremely loud. I never missed a call or message thanks to the noisy notifications. The Brigadier's vibrate alert is good and strong.
Battery
The Brigadier delivered very good battery life. I easily managed to get a full day's use with moderate email, social network, browsing, and media consumption. Using Bluetooth and GPS didn't have a noticeable impact on battery life. In general, the Brigadier did well and should get most people through an entire day without trouble.
The Brigadier includes Kyocera's MaxiMZR and Eco Mode tools to help you further improve battery life; they do help. MaxiMZR analyzes the data usage and can limit the background data consumption of certain apps (such as email or Facebook) to help conserve power. The tool takes at least a few days to learn how you use your apps. Eco Mode helps refine the Brigadier's power consumption by shutting down predetermined services once the battery reaches a predetermined percentage. For example, Eco Mode could be used to turn off automatic email fetch once the battery drops below 20%. Eco Mode has a cool home screen widget that makes it a breeze to setup and use.
Basics
Menus
The Brigadier runs Android 4.4.2 KitKat with a light skin from Kyocera. Most Android users will feel right at home and shouldn't have any problems navigating through the user interface and menus.
The lock screen is fairly useful. For starters, you can dial in one of a dozen different clocks. Most of the clocks also include the weather. The lock screen also has shortcuts to the camera and phone, as well as the main menu. The home screen panels, of which there are five, behave as normal. Kyocera created its own widget for controlling some of the basic functions, such as brightness, sound, flashlight and several others. It's huge and simple to use.
The app menu functions just as it does on other Kyocera devices. App icons are arranged in grids and you swipe sideways to access more pages of apps. By default, apps are arranged alphabetically, but you can put them in your preferred order, or add apps to folders. The menu doesn't support a list view.
Kyocera dressed up the settings menu with its own fonts and colors, but it functions just the same as on other Android handsets. I found it easy to use for managing and adjusting the device to suit my tastes. The notification shade functions as it does on any stock Android phone. There are tools for controlling some of the wireless radios, as well as a list of incoming notifications ranging from calls, to text messages and emails.
The Brigadier doesn't have a powerhouse processor, but performs fine all the same. A 1.4 GHz quad-core Snapdragon 400 is under the hood. It's paired with 2GB of RAM and does a good job providing processing oomph for the Brigadier. It handled multitasking with ease, and the majority of apps opened swiftly and functioned without hiccups
Calls and Contacts
The phone app is mostly unaltered from the standard Android version. There are tabs across the bottom offering access to the dialpad, call log, and menu. The dialpad is nice and big, and the in-call tools are rather neat. The speakerphone, mute function, and add-call all have distinct on/off switches that make them easy to decipher and use when in the middle of a call. (The Brigadier will eventually have access to walkie-talkie push-to-talk service through a Verizon app, but it was unavailable for us to test.)
The contact app includes its own home screen with tabs along the top, which separate your entire contact database from your favorites, and from groups. Individual contact cards can hold tons of data and sync seamlessly with pretty much any account you care to use. There are several home screen widgets, too, as well as the ability to put direct actions to select contacts on the home screen.
Messages
Verizon has consolidated the messaging apps offered on its phones, and the Brigadier follows the same path set by other devices sold by Verizon in recent months, such as the Samsung Galaxy S5 and LG G3.
Verizon Messaging is set as the default messaging application and it handles SMS/MMS. Verizon Messaging offers access to some neat extras. For example, it includes its own set of animated emoticons. The app can be used to create a postcard, as well as to record a voice message or send a Glympse. Glympse is a location-sharing tool. I was able to send my location data to other phones quite simply. The app lets you control how long the location details are visible to the other person. The shortest period of time is 15 minutes and it stretches up to two hours. You can follow the person live on a map, as well as map directions between the sender and recipient. Beyond these tools, the functionality of Verizon Messaging is OK, but I find it lacks polish. It also lacks templates with pre-composed messages.
Since Google allows Android device owners pick which app they want to use for SMS, you can ditch the Verizon app if you want, and use the old Android SMS app or Google+ Hangouts. These are more bare-bones apps, but they function well enough on the Brigadier.
Aside from Google+, no other social networks are installed. You'll have to snag Facebook, Twitter, and others from the Google Play Store. The Brigadier does have the standard Gmail and email applications, both of which function well. The phone also has a dedicated app for receiving emergency alerts.
Extras
Media
The Brigadier offers a variety of media apps and services. The Google Play Store is available for purchasing content, and the individual Play apps are loaded, as well. These apps haven't changed much over the last few years. The Brigadier also offers a basic music player for side-loaded music, and the stock YouTube application. I had no trouble using these apps to browse for, purchase, and play back various types of content.
Verizon was sure to bundle in a ton of its preferred apps, as well. You'll find Amazon Music and Audible for MP3 and audio book consumption, respectively, along with the Amazon store and Amazon Appstore. The Brigadier has the NFL Mobile and Slacker Radio apps, as well. Lastly, the Brigadier has Verizon's (crummy) ringtone app.
Music sounded good to my ears through my favorite headphones, but I was unimpressed with the quality of movies played back on the screen. They didn't have the same "pop" I've seen on other handsets. Perhaps its the lower-rez screen.
Camera
The Brigadier carries over the newer camera software from some of Kyocera's more recent Android offerings. Believe me when I say this is a good thing. I'm glad to see a dedicated camera button on the phone, which makes it easier to launch the camera app. The camera launches quickly with a long press of the button, even when the phone is locked.
All of the controls for the camera are lumped to the right edge of the screen. The camera includes separate buttons for capturing photos and capturing video. This makes it easier to capture snapshots when recording video. There is a strip next to the shutter buttons that contains some basic tools for switching mode and scenes, as well as altering white balance and controlling the flash. The modes include panorama, smile shutter, and HDR. Scenes include auto, portrait, landscape, night, and action. These modes and scenes are all fairly typical and function as expected. Some indicators are lumped together in the upper-left corner so you know what modes/scenes you are shooting in.
In order to adjust more behaviors, you need to select the full settings menu. This expands another control strip across the bottom of the screen and provides access to resolution/quality controls, as well as autofocus and metering behavior, the timer, blink detection, storage location, review period, and so on. The one thing I don't like is that all these items are represented by a little icon with no text. You have to press them in a trial-by-error fashion to figure out what all the little buttons do. This is frustrating the first few times around, but you can learn them over time.
I do wish the camera focused and captured images faster. It'd say it borders on slow, and it one of the most obvious limitations of the Brigadier's mid-grade processor.
Photos
Every device has a crutch, and the Brigadier's is its camera. The phone has an 8-megapixel sensor and it just doesn't perform on the level it needs to. Focus is soft, exposure is all over the place, and white balance is iffy. My biggest complaint is focus; images are just not sharp enough. The other items can be fixed to a certain degree after the fact, but focus cannot. I'd go so far as to say the camera cannot replace a point-and-shoot, let alone a dedicated dSLR. If vacation photos are important to you, bring a real camera.
I will point out again that water vapor occasionally clouded the camera lens of our specific review unit. When it did, the camera was completely useless (unless you prefer your images to be hazy smears of color).
Video
The video camera, which can shoot 1080p HD, fares slightly better. It delivered more consistent exposure and white balance, and focus was somewhat improved. I'd say the Brigadier is fine for everyday recording needs, but don't use it to shoot your Magnum Opus.
Gallery
The Brigadier uses a nearly standard version of the Android gallery application. It doesn't offer anything new or different compared to other Android 4.4 phones, aside from an appearance favored by Kyocera. It's acceptable for managing photo albums and sharing photos with social networks. It also has some simple editing features, such as crop, rotate, red-eye reduction, and filters that help correct color, exposure, and other issues. I like the way the editing tools are laid out in a strip across the bottom of the screen.
The Google Photos+ app is also on board if you prefer to use that. Perhaps its best feature is the ability to automatically back everything up to your Google Drive account.
Apps
Verizon stacked the Brigadier with plenty of annoying apps. Some include Caller Name ID, Verizon Cloud, My Verizon Mobile, VZ Protect, and VZ Navigator. There's a full suite of Amazon-branded apps. Kyocera kept its own-branded apps to a minimum.
Bluetooth
The Brigadier supports Bluetooth 4.0 and a wide range of profiles. I successfully paired the Brigadier with a half-dozen different devices. Phone calls routed to my car's hands-free system sounded very good and offered plenty of volume. The Brigadier includes the A2DP stereo music profile, but not the high-quality aptX option. That means music sent to my favorite Bluetooth speaker sounded decent, but not the best.
Browser
The Brigadier includes only Google's Chrome browser. I like the way it syncs open tabs and bookmarks between other devices, and it does a fine job of rendering web sites. It performed very well over Verizon's LTE 4G network.
Clock
As noted earlier, it's a breeze to change the lock screen clock to any number of different designs. Some are analog and some are digital, and they vary in size. Most include the weather. Nearly all the clocks are readable from an arm's length even when under bright sunlight.
GPS
The Brigadier includes Google Maps and Verizon's VZ Navigator for navigation. Both apps paired well with the Brigadier's GPS radio, which was consistent at pinpointing me in fewer than 5 seconds and to within 15 feet. I like Google Maps because it's great for search, routing directions, and is free. VZ Navigator is also a solid option, but it carries a small monthly fee.
Wrap-up
The Brigadier mostly delivers on the promises made by Kyocera. It's good-looking, tough, water-resistant to a degree, and has one of the strongest displays I've ever seen. The Brigadier offers good battery life, excellent network performance, and solid call performance. The downside to its rugged design are the size and weight, which are both considerable.
The Android user interface functions just fine and Kyocera's customizations aren't over-the-top or annoying. The added widgets from Kyocera make controlling some aspects of the phone a breeze, and the basic configuration of the home screen panels and app menu are manageable.
The Brigadier offers about the same media tools as most other Android phones, with Verizon's branded apps thrown in for good measure. Perhaps the device's biggest weakness is the camera, which takes below average photos.
If you're looking for a tough phone that can take a beating, deliver solid battery life and call quality, yet still offer a range of finer features, the Kyocera Brigadier is worth a look.
Not just water proof
All the reviews seem to miss the fact that this phone isn't just waterproof but you can use it while wet. No more wiping a drop of rain or snow off of the screen, you can use it this way.
I let my son take it in a creek this weekend and he was able to play Minecraft with the phone underwater.

The USB cover was annoying so I bought a $20 wireless charger.
enine said:
The USB cover was annoying so I bought a $20 wireless charger.
One of the best things about the Torque (and it appears that this Brigadier model is probably a spin-off from the Torque) is the incorporati...
(continues)
...but what about the PTT button?
Great review, thank you. The many photos allow one to really get a feel for what the phone looks like & how its built.

Because the Brigadier looks a lot like the Kyocera Torque from Sprint, I'm wondering if the Verizon version has the same wimpy PTT button that the Torque has. Any info on that will be appreciated.

The old Motorola PTT phones had excellent PTT buttons, honed from many years of feedback from two-way radio customers over several decades, and also by Nextel users over the last ten years of iDEN's life. But Kyocera's PTT buttons on all of their Sprint phones are incredibly wimpy, so easy to push that one can not use the One Touch DC functionality because the wimpy Torque PTT button causes untold numbers of unintended PTT ch...
(continues)
This doesn't have a PTT button, though I suppose you could set the programmable button to do it.