Verizon Scores the LG G Vista, a Budget Phablet
Article Comments 1
Jul 31, 2014, 7:46 AM by Eric M. Zeman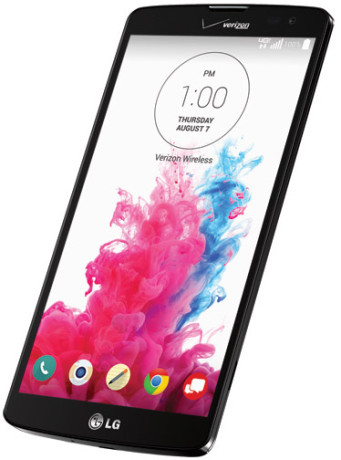 Verizon Wireless today began selling the LG G Vista, an inexpensive Android smartphone that offers a big-screen experience. The G Vista has a 5.7-inch display with qHD (960 x 540) resolution. It is protected by Corning Gorilla Glass 3. The design of the phone strongly resembles that of the LG G3. For example, the volume and lock screen buttons are placed on the back of the device. The G Vista is powered by a 1.2GHz quad-core processor with 1.5GB of RAM and 8GB of internal storage. It includes an 8-megapixel main camera with 1080p HD video capture and a 1.3-megapixel selfie camera. Other specs include Bluetooth 4.0, Wi-Fi, NFC and Isis for mobile payments, and a 3,200mAh battery. The G Vista carries over many of LG's proprietary apps and functions, such as KnockON and KnockCode, QSlide apps, QuickMemo, and Dual Window for multitasking. The LG G Vista runs Android 4.4.2 KitKat and costs $100 with a new contract or $20 per month with Verizon Edge. It is available beginning today.
Screen is 720p (?)
I know that over and over they are reporting that this screen is 540, but last night a Verizon chat rep told me it is really 720. But so far after having asked about 6 Verizon people in stores and online, it's 50/50 - half are saying it's 540 and the other half 720. Sad they don't train their people well enough to know. Their web site just says "HD display" with no pixel dimensions.

Another note - it just has 8 gigs of built-in memory and only around 3.97 gigs available for the user so a micro-sd is a necessity if you get one.